Watergate West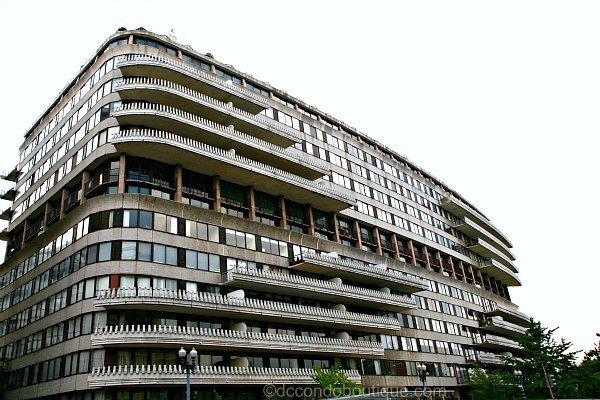 The Watergate West is located at the corner of Virginia Avenue and Rock Creek Parkway and is one of three luxury residential buildings that make up the exclusive Watergate complex in Foggy Bottom. Delivered in 1969, the West building includes 143 apartments laid out across its 13 stories, including 19 ground floor duplexes with their own patios. The residences on the western end of the building are widely credited with having the most spectacular views in the complex and directly face the Potomac River.
Watergate West Cooperatives For Sale
Watergate West Cooperatives For Sale
May 30, 2023
More About Watergate West
Watergate Amenities
The Watergate offers first class amenities including a 24-hour concierge service, doormen, as well as an onsite pharmacy, post office, bank, and a plethora of restaurants, shops, boutiques and medical and dental services. Each residential building features closed circuit television cameras, security guards, as well as an outdoor, heated pool and flowering gardens.
The complex itself boasts seven gardens, a multi-level park as well as fountains adorning the open-air shopping area. Walkways across the complex are located both above and below ground for added convenience. The Watergate is within walking distance of the Foggy Bottom Metro Stop as well as the Kennedy Performing Arts Center and the Washington Harbour.
Watergate West Fast Facts
Units: 143
Stories: 13
Delivered: 1969
Ownership: Cooperative
Location: Virginia Avenue at Rock Creek and Potomac Parkway
Neighborhood: Foggy Bottom
Metro: Foggy Bottom
Property Management: 202-965-3000
Address: 2700 Virginia Avenue NW, Washington, DC 20037
Watergate West Entrance