Seneca House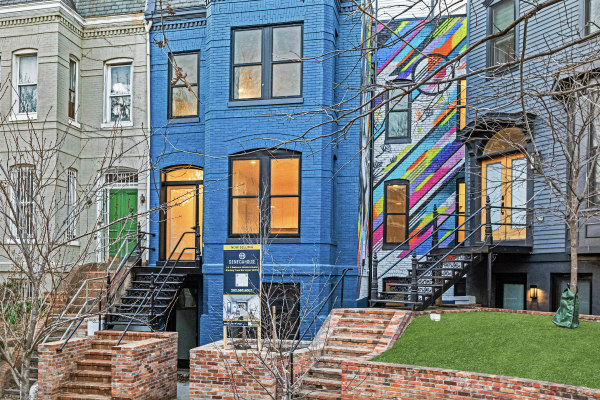 As a truly one-of-a-kind, residential option in DC's Columbia Heights neighborhood, Seneca House combines a vibrant exterior with a modern interior. This east façade of this boutique property features a full mural from renowned painter and former architect Hamilton Glass of a young girl blowing a dandelion, as if to make a wish.
The brightly hued paint not only sets the building apart, but it actually helps create a place where people can live as part of public art. The brick row house, itself, dates back to around the turn-of-the century, but it's since been redesigned into a boutique condo community of just 10 residences.
Seneca House Condos For Sale
Seneca House Condos For Sale
December 9, 2023
Neighborhood:
Meridian Hill
Neighborhood:
Meridian Hill
Neighborhood:
Meridian Hill
More About Seneca House
Seneca House Finishes
Developed by PT Blooms, each of the residences within Seneca House comes with its own unique floor plan, and the features and finishes do vary some from residence to residence, truly setting this property apart from many of the rest. You may find wide-plank oak hardwoods in some of the residences and walnut bathroom vanities.
You may also find quartz countertops, white lacquered kitchen cabinetry and Bosch appliances with some of the condos of Seneca House. Other features and finishes include pendant lighting and a full washer/dryer for added convenience.
A select number of units also have some dedicated outdoor space. The layouts typically range from a one-bedroom to a one-bedroom plus a den, to a two-bedroom.
A 1,300 square foot penthouse sits on the very top of Seneca House, which includes high ceilings and a complete range of Thermador kitchen appliances. Each of the two bedrooms in the penthouse unit offer access to a private roof deck, but there are three private outdoor spaces that come with the penthouse, in all.
Seneca House Location
Choosing the penthouse also means views of the building's outside mural and of the city. The property sits across from popular Meridian Hill Park and close to the 14th Street Corridor.
Inquire About Seneca House