National Landing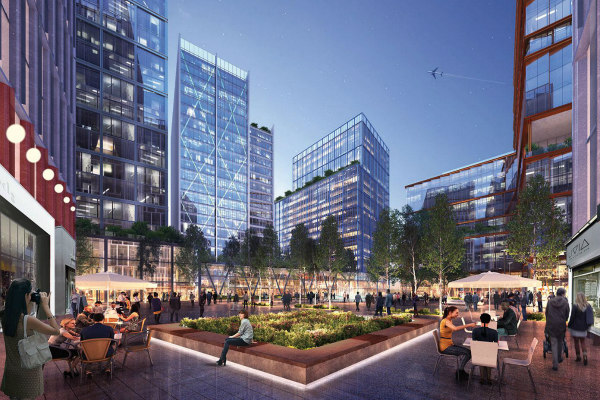 National Landing is an area of Northern Virginia, just outside of Washington, DC that includes the communities of Crystal City and Pentagon City in Arlington and Potomac Yard in Alexandria. This area is located adjacent to Reagan National Airport, the Pentagon and just 15 minutes from DC. Real estate options in this urban, walkable neighborhood include high-rise condos in Crystal City and Pentagon City and town homes and mid-rise condos in Potomac Yard. Read more about National Landing.
National Landing Homes & Condos For Sale
National Landing Homes & Condos For Sale
December 10, 2023
More About National Landing
Search National Landing Developments
National Landing Neighborhoods
As part of its HQ2 project, Amazon and its new development partners in the area have rebranded the three existing neighborhoods that will host the new campus — Crystal City, Pentagon City, and Potomac Yard -- as "National Landing," while retaining each area's distinct name.
Crystal City
Crystal City, located in in the southeastern corner of Arlington County, is the site of Amazon's headquarters and the area where much of the transformation will take place. While the neighborhood is currently quiet with many office buildings sitting empty, developers envision transforming the area into a vibrant city center and mix-used urban neighborhood. Crystal City had already started this transition into a tech and innovation hub, attracting a handful of tech-startups such as Lyft, non-profits, media giants such as Bloomberg and Fortune 500 corporations, including Boeing. Crystal City is also the official home of Ronald Reagan National Airport.
Pentagon City
Located in the southeast portion of Arlington County near The Pentagon and Arlington National Cemetery, Pentagon City is located on the Blue and Yellow lines of the Washington Metro and borders nearby Crystal City along U.S. Route 1. With its convenient location just 2 miles away from the National Mall in downtown Washington, the neighborhood has always been a popular site for hotels and businesses and boasts a multi-level indoor shopping mall. The mixed-use development, Pentagon Row, features a number of boutiques and eateries sprinkled amongst high-end condos and apartments. Residential neighborhoods include Aurora Highlands to the south and Arlington Ridge to the west.
Potomac Yard
Spanning southeastern Arlington County and northeastern Alexandria, Potomac Yard will serve as the site of the Innovation Campus Virginia Tech plans to establish. Today, the community is home to a mix of townhouses and condominiums that sit near a children's play area, bike trail and nearby sports fields. With Old Town Alexandria and the airport just minutes away, the community has always been popular with families and commuters. Oakville is a proposed 1.5 million sf mixed use development with a heavy retail focus slated for the first phase of construction in late 2019.
National Landing Transportation
National Landing offers tremendous access to public transportation with three Metro Stations on the Blue and Yellow Lines (Pentagon City, Crystal City & Potomac Yard opening in 2021). The Virginia Railway Express has a stop in Crystal City offering rail service between Union Station and Broad Run on the Blue Line and Spotsylvania on the Red Line. The Metroway premium bus service runs between Pentagon City and the Braddock Road Metro Station. Reagan National Airport is located directly to the west of National Landing and a high line walkway between Crystal City and the airport is currently under evaluation.
The George Washington Memorial Parkway, Jefferson Davis Highway (Rt 1), I-395 and S Glebe Road are major thoroughfares passing through or near the National Landing community. Driving access to DC is most convenient via the 14th Street Bridge located just north of National Landing
National Landing Parks & Recreation
The National Landing neighborhood was designed with walkability in mind and public outdoor space is found throughout the community. The Crystal City Water Park offers a convenient place to escape the daily bustle with water fountains, picnic areas and regularly scheduled entertainment including live music. Longbridge Park at the north end of Crystal City offers 30-acres of recreation and outdoor space including playing fields, walkways, a rain garden and a public art display. The 24-acre Potomac Yard Park is located between the retail and residential areas of Potomac Yard and offers an interactive water fountain, walking trails, picnic areas, playing fields, sports courts and signs of an historic interpretation of the former use of the Yards. National Landing also offers convenient access to the 18-mile Mount Vernon Trail which runs alongside the Potomac River from Roosevelt Island in Washington, DC to George Washington's Mount Vernon Estate in Alexandria.
National Landing Shopping, Dining & Entertainment
The urban, walkable National Landing community offers an abundance of shopping, dining and entertainment venues. The Fashion Centre at Pentagon City features170 retailers and restaurants including Apple, Nordstrom and Macy's and is connected to the Ritz-Carlton Pentagon City. The Potomac Yard Center offers a line-up of of big-box retailers including Target, Staples, Best Buy and PetsSmart as well as a number of restaurants including Cava, Five Guys and Hops Restaurant. A number of restaurants offering significant culinary variety are located in Crystal City on 23rd Street S as well as on Crystal Drive. The Regal Potomac Yard Stadium 16 is located at the west side of Potomac Yard Center.
National Landing History
National Landing's pre-eminent neighborhoods - Crystal City - and Potomac Yard — are steeped in history.
In the 60s and 70s, Crystal City was the quiet home of government agencies, military contractors and industrial sites. The area's name came from one of the first apartment buildings known as Crystal House which boasted an elaborate crystal chandelier in the lobby and still stands to this day. As subsequent buildings were completed, they took on variations of the "crystal" name — "Crystal Gateway," "Crystal Towers" until the entire neighborhood relied on the name as a theme for its integrated layout of high rise buildings. In fact, many of the office buildings and residential high-rises used underground corridors so that travel between stores, offices and residences was possible without going above ground.
Potomac Yard draws its name from what was once one of the busiest rail yards on the eastern seaboard. Railroad development began in the 1850s, ultimately leading to the opening of the Alexandria Union Station in 1905 and the switching yard — Potomac Yard — that opened a year later. "Pot Yard" attracted thousands of workers who settled into what is now part of the Del Ray neighborhood in Alexandria. In its heyday, Potomac Yard processed thousands of cars daily. Today, the name also encompasses several newer projects, including the Potomac Yard Retail Center and a planned Metro station.
Working in National Landing
National Landing is located directly south of the Pentagon and has long been a location attractive to defense contractors. Current prominent employers in National Landing include Bloomberg, Boeing, Lockheed Martin and PBS. Today approximately 23,000 military and civilian employees and 3,000 non-defense support personnel work at the Pentagon in 6.6M square feet of floor space.
The Defense Base Realignment and Closure Commission (BRAC) that went into effect in 2005 significantly impacted the Arlington area with 17,000 jobs leaving the area. By 2015, BRAC's impact resulted in 3.7 million square feet of empty office space. This vast sea of empty space was a major draw for Amazon in selecting National Landing for its HQ2 deployment.
Amazon & National Landing
In late 2018, Amazon announced it had selected Crystal City in Arlington County, Virginia, as the future home of its HQ2 corporate expansion. Amazon's HQ2 second headquarters project will help transform the DC region into more of a tech hub and includes 500,000 sf of office space that Amazon expects to occupy over the next four years in the Arlington County area with 25,000 new jobs. Immediately following Amazon's selection announcement, state and local officials created "National Landing," a newly branded neighborhood that includes Potomac Yard and parts of southern Arlington, including Crystal City. As part of the announcement, Virginia Tech is establishing an "Innovation Campus" in the Alexandria portion of Potomac Yard. Amazon has slated Metropolitan Park and Pen Place as sites of additional Amazon office space, coming on board in 2025 and 2027 respectively.
To address the need for new housing, developers are exploring the possibility of unlocking Route 1 to provide additional housing opportunities with exit ramps and other uses that wouldn't make sense in an urban environment. Additional improvements include bringing the road to grade and making it more pedestrian and bicyclist-friendly. Developers are also looking at RiverHouse, an existing 1,670-unit development at 1400 Joyce Street, for the addition of another 933 units across three buildings on the surface parking lot on the site. City planners are also hoping to preserve some 2,000 - 3000 units of affordable housing with an initial fund of $150 million.
National Landing: What's In a Name
National Landing Digital Tour
HQ2 and National Landing Impact on Region
From Our Blog - National Landing
Questions About National Landing?