Technology Delivers Buyers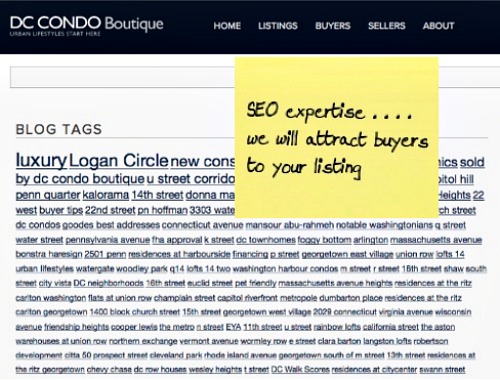 Today's buyer, especially in the DC area, typically begins the search for a home online.  Ongoing blog posts, combined with social networks including Twitter, Facebook and Google+ are an extremely powerful piece of our marketing plan in cost-effectively bringing qualified buyers to you.  In the DC area, it's especially important to market to buyers outside your physical region who may be relocating and have very specific timelines.  The DC Condo Boutique blog is widely read by the thousands of visitors who come to the site on a daily basis to read our informative posts and look at listings.  Blog posts have been picked up by the regional DC real estate trades as well as the nationals.
 
Our advantage is that we craft blog posts that highlight the unique features of your condo development – whether it's the trendy neighborhood, superb moldings or a distinctive architectural feature.  Our experience in writing frequent posts on the area ensures we can create a custom blog on your property that will attract ready-to-go buyers to your listing.
 
Twitter, Facebook and Google+ are other tools in our social media arsenal that allow you to silently target empty-nesters or young families by calling out the features that matter the most to these groups.
 
We look forward to working with you on a digital strategy that will connect you with your future buyer.