Get More Buyer Exposure
Homebuyers are becoming increasingly sophisticated shoppers and many are out-of-town buyers whose first stop is "Google". Our dominant Web presence ensures your property is seen by thousands of qualified buyers.
Buyer Exposure Delivers Results
Try Googling DC condos, the name of your DC neighborhood, or the name of your DC condo development......we are almost always at the top of Google search results for thousands of DC real estate search terms.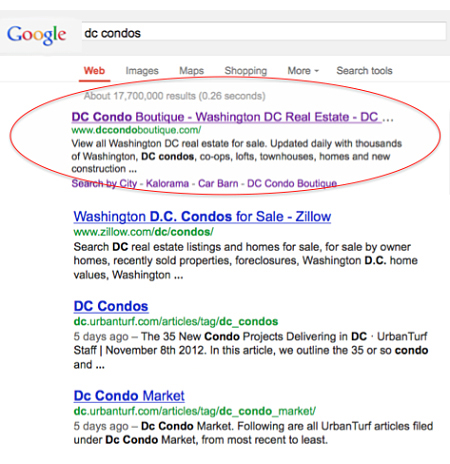 We use a combination of social media and smart technology to ensure that DC Condo Boutique consistently ranks in the top Google and other search engine results for the DC market. The DC Condo Boutique in-house Webmaster will work hard to ensure that your listing will get maximum exposure to qualified buyers.
Engaging, Educating, Selling…
A smart, easily searchable, and informative Web site is far more powerful than the countless postcards, glossy magazine ads or billboards some agents resort to using. We focus our resources on building an online presence for your home (rather than investing in our own image) and leveraging technology to cost-effectively bring active buyers to your property listing. Our site includes neighborhood descriptions, school rankings, relevant blog posts, as well as ongoing updates on transportation options and new building projects. In short, our fresh, relevant content helps connect prospective buyers with the demographics and neighborhood characteristics for which they're searching.

Utilizing our expertise in Internet marketing has enabled us to build an extensive database of prospective buyers. Using statistics and Web traffic patterns, we can laser focus your property listing to thousands of home buyers who are most ready to make a purchase decision.
We Know Your Buyer
When interviewing agents, ensure you're working with a progressive realtor who can demonstrate how they can put consumer shopping techniques to work in real estate.

To get a few ideas on how to harness the Internet to create a targeted marketing plan that will sell your home, give us a call at (202) 450-9324.