Yes, Washingtonians Are Funny!
Posted by Mark Washburn on Saturday, May 3, 2014 at 6:33 AM
By Mark Washburn / May 3, 2014
Comment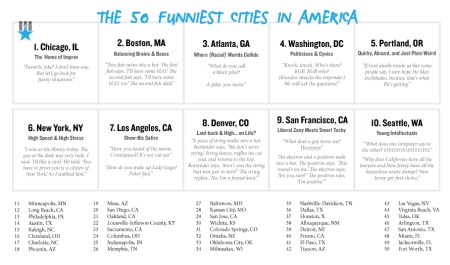 We have politics and we also have a good sense of humor, as DC comes in as the fourth funniest city in the U.S.  A University of Colorado professor is the founder of Humor Research Lab, a scientific study of humor, and comes to this conclusion: DC residents are funny.  DC's high ranking comes as a result of being able to produce 1 top comedian for every 158,000 residents; DC is home to a little more than 632,000 residents.

The Funniest City in America goes to Chicago (The Home of Improv), #2 Boston, #3 Atlanta, so DC is in good company as it ranks fourth out of 50 cities.  So what are the criteria for being dubbed a funny city?  Factors used by Humor Research Lab included: frequency of visits to comedy websites; number of comedy clubs in each city; traveling comedians' ratings of each city's comedy club audiences; number of famous funny tweeters living in each city; and number of comedy radio stations.

The Human Research Lab also conducted an extensive survey with residents in the city to get an idea of humorous daily life in these cities and the kinds of funny entertainment they enjoyed.  Mostly DC residents find humor in the foolishness of the political system.