WY18: Classic Revival Style Renovation in Adams Morgan
Posted by Mark Washburn on Wednesday, March 23, 2011 at 7:44:39 AM
By Mark Washburn / March 23, 2011
Comment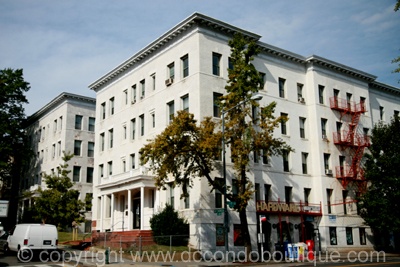 It has been a while since a new condo development was delivered in Adams Morgan. Adams Morgan was one of the first NW District neighborhoods to see industrial conversions to residential lofts, but much of this activity has been completed for over a decade. Also, there are fewer large infill parcels in this neighborhood as the riots following the assassination of Dr. Martin Luther King did not impact Adams Morgan nearly as much as neighboring communities.

Located at the corner of Wyoming Avenue and 18th Street, WY18 is the complete renovation and conversion of the Warrington and Wilmington apartment buildings. These twin buildings were built in 1909 as the Adams Morgan neighborhood expanded with the street car service from two trolley lines.

Construction is underway at WY18 and much of the charm associated with Classic Revival Style architecture including high ceilings, large windows and articulated roof moldings is being saved and restored. The $4.8M renovation, which started in October 2010 by Urban Investment Partners, is expected to be completed in a year. Fifteen exisitng tenants will purchase or rent following the conversion in accordance with the District of Columbia's Tenant Opportunity to Purchase Act (TOPA).

New units will range from 900 SF to over 1,300 SF with studio, one and two bedroom configurations. Systems being replaced include heating, cooling, wiring and plumbing as well as new windows and rooftop decks. Units will feature modern open floor plans, GE Cafe Series appliances and quartz countertops. Prices at WY18 start in the $500s. Here is a resource to view active listings at WY18.