What Is The Future For Rosslyn Highlands Park?
Posted by Mark Washburn on Friday, July 3, 2015 at 6:33 AM
By Mark Washburn / July 3, 2015
Comment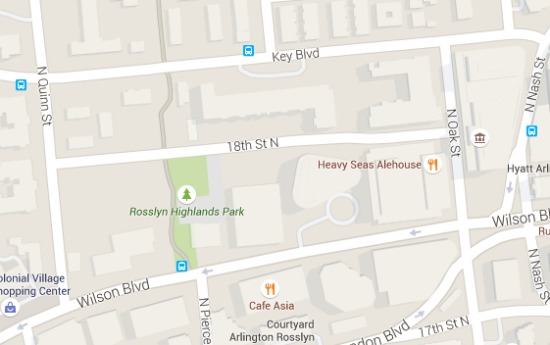 There is a proposal on the table to possibly build on top of Rosslyn Highlands Park and give part of it away to a private developer in exchange for the developer to build a new fire station.  Rosslyn Highlands Park is a narrow open space of land that includes a basketball court and a playground located on Key Boulevard in the Rosslyn neighborhood of Arlington.  The Penzance group that owns an office building nearby has proposed to the County that it would like to shrink the size of Highlands Park by 30 percent, and redevelop the county-owned site with high density commercial and residential developments: three buildings and open space in the middle in exchange for a new fire station for the county on that site as well.

The Penzance private development group would like to build a 17-story office building, a 24-story residential building along 18th Street N., and a 277-story residential building on the eastern side of the narrow parcel of open space.  Arlington County staff released a draft plan in February to sell the site to Penzance with the developer agreeing to build a new fire station on the site in addition to a landscaped public plaza on the site as well.

The public park is part of an area that a county commission is discussing future plans for in between 18th Street N., N. Quinn Street, Wilson Boulevard, and1555 Wilson Boulevard.  The county's Parks and Recreation has some concerns about the far-reaching proposal, and residents of the area are also voicing their opposition.  According to a study of feedback from residents, 63 percent prefer an option that keeps the Rosslyn Highlands Park footprint and shrinks the proposal by Penzance to the current plot of land.  The neighborhood overwhelmingly supports open space and recreation amenities to maintain the County's high quality of life.  Otherwise, the closest playground for children would be a half-mile away, according to a new Facebook group by residents.