Wesley Heights Even More Tranquil After Leaf Blower Ban
Posted by Mark Washburn on Wednesday, March 9, 2022 at 2:10 PM
By Mark Washburn / March 9, 2022
Comment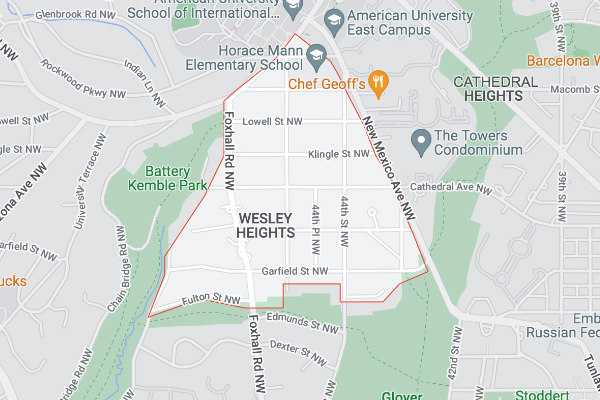 Long considered one of DC's most peaceful neighborhoods, Wesley Heights is even more tranquil these days, following a ban on leaf blowers. The law, dubbed the Leaf Blower Regulation Amendment Act, passed in 2018 but just went into law this January.
The ban came after complaints from neighbors and some critical blog posts that referred to leaf blowers as a local nuisance. Essentially, it outlaws gas-powered leaf blowers in Wesley Heights.
Violators could have to pay up to $500 per offense. Proponents of the new ban call it a step in the right direction.
The upscale suburb is known for its beautiful homes and friendly atmosphere. The neighborhood was originally developed as one of the nation's first planned communities, primarily built up between the 1920s and 1950s.
Families still come to Wesley Heights for its convenience and its appeal. Most homes in Wesley Heights today sell for at least $1 million.
Homes rarely hits the market in Wesley Heights, though, as residents tend to move to the neighborhood and stay. While you'll still find several older homes, it's possible to find some newer homes in Wesley Heights now, as well.
The neighborhood also has the advantage of a large amount of green space on two sides of the neighborhood. Forested Glover Archbold Park offers an escape of sorts from the fast pace of the city and sits on the east side of Wesley Heights, while Battery Kemble Park sits on its west side.
This makes it easy for families to do some hiking or just have a place to play and enjoy the natural setting. At the same time, the neighborhood is only a few miles northwest of Downtown DC.
Popular Georgetown, meanwhile, is about two miles to its south. As well, the campus of American University sits to its north, presenting a number of nearby performances and special events that are open to the public. You'll additionally find a small number of restaurants, bars and shops in the neighborhood, itself.