Watergate Update
Posted by Mark Washburn on Friday, May 28, 2010 at 7:19 AM
By Mark Washburn / May 28, 2010
Comment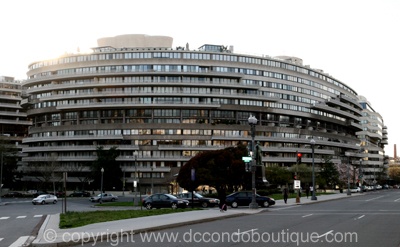 The Wall Street Journal reports that the Watergate Hotel is being renovated by Euro Capital Properties, Inc., who recently paid $45M for the property. The hotel has been empty since 2007 and had been through a foreclosure proceeding after Monument Realty defaulted and failed to follow through on plans for a condo conversion. The hotel is expected to be open for business after a two-year renovation.

The existing residential condo portion of the Watergate complex consists of 600 units located in four buildings: 2500, 2510 + 2700 Virginia Ave, NW and 700 New Hampshire Ave, NW. Over the last 12 months, 17 condos have sold at the Watergate complex ranging in price from $285,000 to $2.8M. Without a doubt, the Watergate sets the record in the District for having the widest spread in unit valuations of any development.

Currently, there are 38 active Watergate MLS listings, ranging in price from $335,000 to $3.99M. With this current 27 month inventory of available units, the plan to renovate the hotel rather than a condominium conversion is a good strategy.