Watergate History For Sale at Webster House in Dupont Circle
Posted by Mark Washburn on Wednesday, April 27, 2011 at 11:48 AM
By Mark Washburn / April 27, 2011
Comment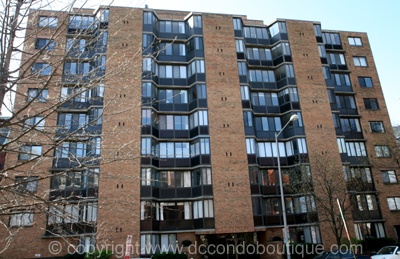 The DC real estate blogosphere has been buzzing this week about a Dupont Circle studio apartment listing where Washington Post columnist Bob Woodward lived during his days investigating the Watergate scandal. The balcony of this unit was used by Woodward to signal his source "Deep Throat." Woodward would plant a flag in a flower pot to indicate to Deep Throat that he wanted to meet.
It was incorrectly reported that Woodward owned the Webster House unit where he lived. This is not accurate as the Webster House was an apartment building from its delivery in 1968 until it was converted to condos in 1978 by Holladay Corporation. Bob Woodward confirmed to me renting at the Webster House " I believe that is the correct apartment number. Never owned it because it was a rental building. I rented it for about $115 a month beginning in late 1969 to early 1973."
At the time of the Watergate break-in, Woodward was a young journalist in his first year of working for the Washington Post. Prior to joining the Post, Woodward worked for a newspaper in Montgomery Country, MD. Before this, Woodward served in the Navy for five years after graduating from Yale University.

Woodward's career was forever changed when Post editor Ben Bradlee assigned him and Carl Bernstein to report on a burglary at the Democratic National Committee headquarters at the Watergate building. Upon discovering that the Nixon operatives were responsible for the break-in Woodward found himself at the core of one our country's biggest political scandals. Woodward skillfully reported on the scandal and over the last for decades and has arguably been the nation's most influential and respected journalist.

Woodward's unit, 1718 P Street #617 is now on the market and listed for $215,000. This 500 SF studio has been stripped back to the shell and is ready for a new interior. Webster House residents enjoy the rooftop pool, staffed front desk, interior courtyard, underground parking and bike storage room.