Washingtonians Most Confident About Economy
Posted by Mark Washburn on Thursday, February 20, 2014 at 7:00 AM
By Mark Washburn / February 20, 2014
Comment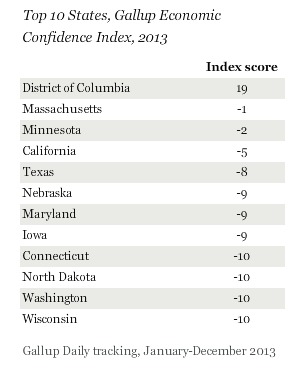 DC's economy is the best in the nation and its residents remain the most optimistic about a continued rosy economy, according to Gallup's Economic Confidence Index for 2013.  Despite coming off the heels of the worst recession in a generation, a paralyzed housing market and a recent federal shutdown, the Washington region has stayed ahead of all 50 states in economic confidence and remains in the top position in 2013.

Financial experts say confidence in DC's economy is a reflection of its very good job market for people with a college degree.  The unemployment rate for residents with at least a college degree is a low 3% in DC.  The Gallup pollster calls DC an outlier in economic confidence compared to all other states in the nation.  DC's chief financial officer predicts DC's economy will continue to grow in 2014, especially with gains in the private sector.

DC is clearly the most optimistic state across the country in confidence about the economy.  Following DC, the other Top 10 states with the most confidence in the economy are: Massachusetts, Minnesota, California, Texas, Nebraska, Maryland, Iowa, Connecticut and North Dakota.  At the very bottom of states with the least economic confidence: West Virginia, Alaska, Wyoming, Kentucky and Arkansas.