Washingtonians 2nd Nationally For Walking To Work
Posted by Mark Washburn on Monday, June 2, 2014 at 11:02 AM
By Mark Washburn / June 2, 2014
Comment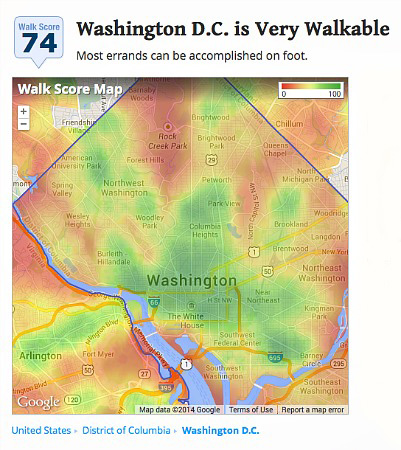 Washingtonians rank second to New York City in the U.S. for walking to work, more than almost any city in the nation.  A new Top 10 list from the 24/7 Wall Street Website reveals 12 percent (or 1 in 8) of DC residents get to their jobs by walking to work; this compares to almost 3% of American workers who walk to work.  Interestingly, 38 percent of Washington residents do not have a car, according to 2012 U.S. Census Bureau data.
Boston came in at #1 for walking to work, #2 DC and #3 Pittsburgh.  DC had the 9th highest Walk Score of Cities, which is one of the highest population densities in the country, with more than 6,388 people per square mile.  Walk Score, a company that provides walkability information, ranked Washington as one of the most walkable in the nation last year.  Popular DC neighborhoods, including Dupont Circle, Penn Quarter, Logan Circle and the U Street Corridor were some of the most walkable areas of the city based on access to public transportation, commute times, bike friendliness and proximity to amenities.

Regional differences influence commuters' preferences, including a city's layout, climate and infrastructures.  Living near work and high population densities encourage walking.  This meshes with DC as the #2 fittest city in the U.S. as DC residents are known for healthy living and an active lifestyle---and walking is a part of our daily routine.  Most errands in DC can be accomplished on foot without a car, and walkable amenities include food shopping, restaurants, coffee shops, bars, dry cleaners, hardware stores, parks and other daily necessities.

DC also ranks #2 nationally in car-free households.  With good public transportation like the Metro and scarce parking, it's easier to Metro downtown to work or an evening out.  Almost 40% of DC households did not own a car, and more and more young American college grads are flocking to cities like DC for jobs and a car-free lifestyle.