Washington National Cathedral Is A DC Treasure
Posted by Mark Washburn on Wednesday, May 7, 2014 at 10:12 AM
By Mark Washburn / May 7, 2014
Comment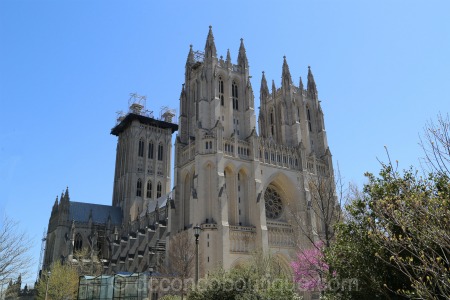 Washington National Cathedral is considered to be a national house of prayer for all people, and its beauty has earned it a #3 spot by the American Institute of Architects' list of favorite architecture.  The idea for a national cathedral dates all the way back to President George Washington.  In 1893, Congress granted a charter to the Protestant Episcopal Cathedral Foundation of DC to build a Cathedral for national purposes.  President Benjamin Harrison signed into law what is now known as the Washington National Cathedral.  The Cathedral was then built on the highest point in DC.  It is an impressive soaring structure in a Neo-Gothic style with architectural sculpture, woodcarving, gargoyles, mosaics and over 200 stained glass windows.

The Washington National Cathedral was completed in 1990, after 83 years of construction.  Thousands of masons, sculptors and 5 architects worked on the building of this majestic Cathedral; it is made from Indiana limestone.  The Cathedral serves the spiritual needs of the nation.  It is the second largest in the U.S., and the 6th largest Cathedral in the world.  Of the many memorable highlights in the history of the Washington National Cathedral, a few stand out: President Theodore Roosevelt's 1907 speech to an audience of 20,000 after workers laid the foundation stone, the Rev. Dr. Martin Luther King Jr.'s last sermon, and Presidents Ronald Reagan's and Gerald Ford's State Funerals.

The Cathedral continues to host regular weekly prayer services and major events, both religious and secular, like festivals, reunions, liturgy, concerts, lectures and a Sunday Forum.  The Cathedral stands at Massachusetts and Wisconsin Avenues, NW in DC's Cathedral Heights neighborhood.  It is listed on the National Register of Historic Places.