Washington, DC is America's Least Affordable City
Posted by Mark Washburn on Sunday, February 15, 2015 at 6:35 AM
By Mark Washburn / February 15, 2015
Comment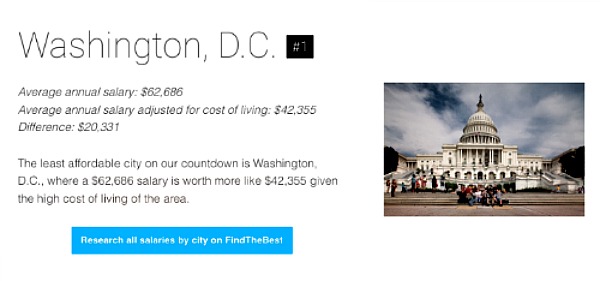 Big cities have a lot to offer---high paying jobs, trendy condos and lofts, nightlife, good restaurants, top shopping, but how far will your paycheck stretch in places like DC?  Not far at all, according to data analyzed by website FindTheBest.  The company looked at data collected by of the U.S. Bureau of Labor Statistics from all over the country.   While salaries in DC are indeed among the highest in the nation, see what happens when average salaries are adjusted for the cost of living.  The Top 100 U.S. cities on the rankings reveal DC is America's least affordable city.  After paying for mortgage or rent, groceries, eating out, utilities, taxes and so forth, Washingtonians don't have much left over and this recent analysis gives us food for thought in terms of actual disposable income.

DC ranks #1 as least affordable city on FindTheBest's list of salaries by city and what your salary is actually worth.  While the average annual salary of $62,686 is considered desirable, it is worth closer to $42,355 due to the high cost of living in DC.   Although big cities come with many advantages, like an exciting lifestyle, city living also has a major drawback with an excessive high cost of living.  In DC, it's not unusual to spend $20 for a hot yoga class or $14 on a cocktail at an "in" wine bar, and monthly rents can run high.
FindTheBest.com calculated the difference between average annual salary and average annual cost of living to come up with an adjusted actual salary worth for big cities.  As you watch your paycheck shrink with mounting daily living expenses, the cost of living index at FindTheBest compared the cost of living for over 600 counties and metro areas in the U.S.  They used budget estimates from the Economic Policy Index.  The index consisted of 6 factors: housing, taxes, health care, childcare, transportation and other necessary items (i.e., food, consumer purchases).  While the average index for U.S. cities is 100, DC scored 255.