Virginia Tech Coming to National Landing
Posted by Mark Washburn on Friday, June 28, 2019 at 9:30 AM
By Mark Washburn / June 28, 2019
Comment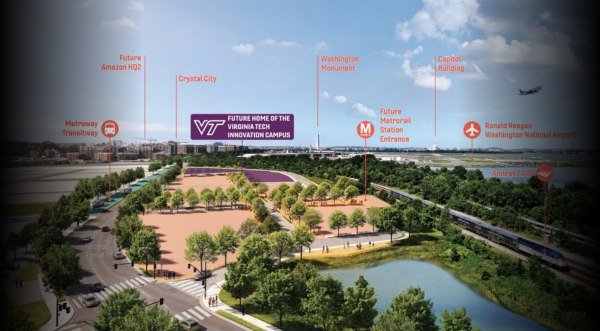 Graphic: Courtesy Virginia Tech
In a major announcement for the DC area, Virginia Tech is headed to National Landing. The university plans to bring its new Innovation Campus to Potomac Yard.
The graduate campus is coming to the area north of Regal Cinemas and south of Four Mile Run. This puts it only about a quarter of a mile away from the Potomac Yard Metro Station.
It also puts the campus closer to Amazon's new headquarters, with a focus on computer science and technology in generating future economic growth. Virginia Tech officials view the one million square foot campus as an ideal spot for supporting the university's plan of developing new research, programs and tech talent for the area.
In particular, the new Innovation Campus will be used to help train high-tech talent for Amazon and other companies. Amazon previously said the new campus helped to solidify its decision to come to Arlington by creating a virtual pipeline of future workers in the technology field.
While it should take about a decade for the campus to be finished, the university isn't waiting for the new physical campus to be finished before its first students enroll. Noting the need for top talent in the region immediately, the first master's degree students at the Virginia Tech Innovation Campus will begin enrolling in fall of 2020.
Eventually, plans call for the campus to host hundreds of postdoctoral fellows and doctoral degree students, along with around 750 master's degree students. The new campus compliments the university's seven other existing facilities with new academic and research space, housing, retail and support space, plus partner space for corporate facilities and startups.
The National Landing campus becomes part of a more than 60-acre mixed-use development. Some reports suggest the area could also include retail and office space, along with room for residential units and hotel space.