Tysons vs. Tysons Corner
Posted by Mark Washburn on Wednesday, July 8, 2020 at 9:28 AM
By Mark Washburn / July 8, 2020
Comment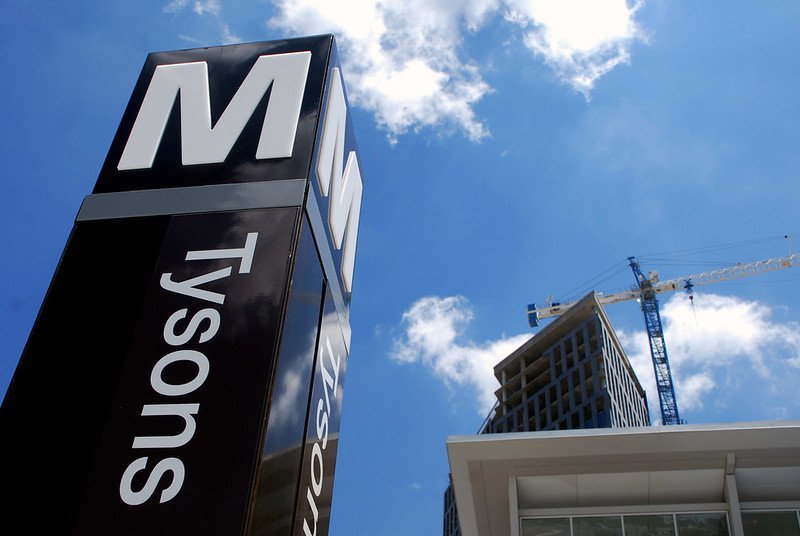 Photo: BeyondDC
It's been up for debate for years, but it seems the Tysons Corner Metro Station may be the latest to drop "Corner" from its name. The Fairfax County Board of Supervisors recently announced plans to refresh the station's identity by simply rebranding it Tysons.
It's not the first time the issue has come up. The "Corner" name has been attached to not only a Metro stop but also countless road signs, marquees and business cards in years past.
Nearly a decade ago the U.S. Postal Service agreed to stop using the name "Corner". A few years later, the U.S. Census Bureau made its own change.
The recommendation to drop the name right now from the Metro station is not only a continuation of that, but it's also tied to new signage needed to coincide with the opening of the second phase of the Silver Line. Proponents, however, say renaming the Metro station could also help with the area's rebranding efforts moving forward.
Despite new development, the name Tysons Corner continues to be tied to an old, outdated image of suburbia and Tysons Corner Center shopping mall. While the mall is certainly important, it's not the only thing.
Tysons is surrounded by an estimated millions of square feet of new development, and that's what proponents of the name change have successfully argued in the past. While newer developments like The Boro tend to only refer to the area as Tysons that hasn't always been the case.
Leaders want future developers and prospective residents to look beyond the office park of the past and see a walkable and vibrant downtown area. They hope the reimagined name change will help spur even more people to want to live and work in Tysons in the coming years and decades.
Some also seem to suggest the name Tysons alone sounds more exciting and more forward thinking as the area continues to grow and evolve.
Tysons Area Condos For Sale
Tysons Corner Condos For Sale