Tysons Is No Longer a Corner
Posted by Mark Washburn on Friday, November 20, 2015 at 11:07 AM
By Mark Washburn / November 20, 2015
Comment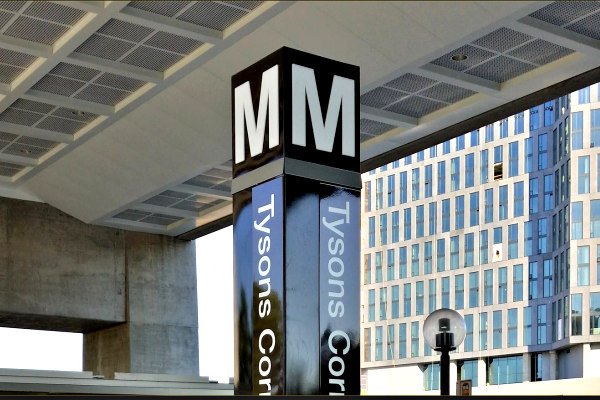 "Tysons" will soon replace the "Tysons Corner" name that has been around for more than 160 years by next summer 2016 in a decision by the Census Bureau this week. The relabeling of the Tysons Corner business and shopping area comes at a time when city leaders have successfully pushed for a comprehensive redevelopment plan transforming the area into an accessible, walkable, sustainable urban region. Tysons is located in Northern Virginia between McLean and Vienna along the Capital Beltway (I-495) within the metro DC area. The recent addition of Metro's Silver Line from DC to Tysons has definitely made the area more accessible as an urban hub.

Known as Tysons Corner since 1854, the area is the intersection of Route 7 and Route 123. The Tysons Land Use Task Force was established in 2005 to come up with a redevelopment plan to serve changes in the community. The new "Tysons" name will take effect in 2016 on public signage, markers, and geographic products (including mobile device apps). The area around Tysons has skyrocketed recently (especially with the new Metro Station Silver Line) as a new Fairfax County hub for retail, office, residential and restaurant space, thereby boosting the local economy. With the Metro Silver Line, Tysons has become one of the premier regional destinations to work, live, shop and dine in the metro DC area. By 2050, Fairfax County projects up to 100,000 residents and 200,000 jobs will call Tysons home.

Congressman Gerry Connolly (D-VA) and the Tysons Partnership made a joint announcement November 9 that the U.S. Census Bureau has agreed to drop the "Corner" from its name to change its name officially to "Tysons." Tysons is on the verge of being remade into an urban environment, following years of planning with the community and the business district to make this vision a reality, according to Congressman Connolly, previously serving as a former Chairman of the Fairfax County Board of Supervisors who worked on the Tysons Land Use Task Force. In the 1950s, Tysons Corner was a quiet rural intersection that later sprouted to the Tysons Corner Shopping Center in 1968.
Tysons Corner Homes and Condos For Sale
Tysons Corner Condos For Sale