Tysons Corner Coming of Age
Posted by Mark Washburn on Friday, December 16, 2016 at 3:54 PM
By Mark Washburn / December 16, 2016
Comment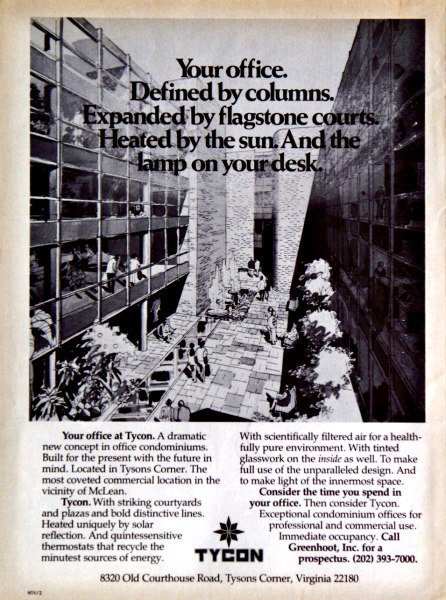 Tyson Corner Office Condominium Advertisement Circa 1975
Home to numerous large tech companies, two malls, retail space and hotels, Tysons Corner is truly coming of age. Once simply pasture land, the area has grown over the half-century or so into a massive business district, where an estimated 100,000 people head to work each day and one now known as the economic core of Fairfax County.
Tysons Corner Center mall first opened its doors in the late 1960s, but it took Tysons Galleria mall another 20 years to welcome its first customers. In fact, the original mall was planned out for private cars, but now area leaders see the real need for public transit in the area. While bus lines have been available for years, a new Metro Silver Line, plus improved bike lanes and walkability combine to hopefully make it even easier to reach and get around Tysons Corner, paving the way for attracting even more new retail and residential development in the future.
Bringing residents to the area is a big deal for Tysons Corner, for even in the recent past the area has been best known for its office parks, not its living options. The redevelopment of Tysons is seen as a way to turn what's long been considered a DC suburb into a re-urbanization project of its own.
The Ascent, a new apartment tower in the area, provides a 24-hour concierge, a bicycle-repair station, a roof deck and a pet-grooming salon. It also includes a flat-screen television in its lobby, showing residents any possible Metro delays, as the closest Metro stop is simply a short stroll from the building. Other amenities include a billiards lounge, swimming pool and a rain garden, all designed around sweeping views of the surrounding DC area.
This residential tower is just part of the transformation of Tysons Corner, as it evolves into a new phase of development, this one expected to see the local population swell from around 20,000 local residents to 100,000, plus resulting in twice that many jobs by the year 2050.