Truxton Circle Has No Circle
Posted by Mark Washburn on Monday, November 4, 2013 at 9:30 AM
By Mark Washburn / November 4, 2013
Comment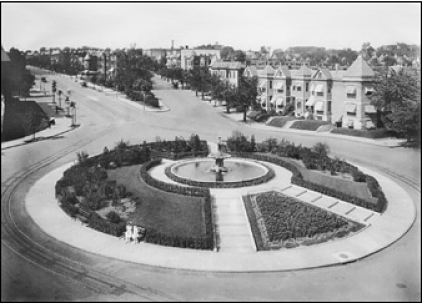 Truxton Circle - Courtesy of the Eckington Civic Association
With a name like Truxton Circle, you'd expect to find a traffic circle as you drive through the neighborhood; but one doesn't exist. Truxton Circle is a neighborhood in Northwest DC bordered by North Capitol Street and New York, New Jersey and Florida Avenues. But 100 years ago, streetcars and other vehicles navigating the intersection of Florida Avenue and North Capitol Street had to go around a circle honoring Commodore Thomas Truxtun, and the adjoining neighborhood next door went by the same name although with a different spelling.

The actual circle was eliminated in 1947 to make room for a growing North Capitol Street, and the area lost its identity, over time becoming a part of Shaw. The busiest road here is 2-lane P Street, which makes for a quiet drive. The homes are smaller, and mostly modest 19th century 2-story row houses without porches or basements but with brick facades. The exception is Bates Street, a tree-lined 2 block avenue between P and Q Streets, with row houses built in 1901 and feature bay windows and small porches.

Around the year 2000, a wave of new first-time homeowners bought homes in the Truxton Circle community and galvanized long-time residents to beautify the neighborhood. The new homeowners had a strong desire to renovate their own homes as well as make their neighborhood more attractive.