Trinidad: A Look Back
Posted by Mark Washburn on Wednesday, January 2, 2019 at 9:33 AM
By Mark Washburn / January 2, 2019
Comment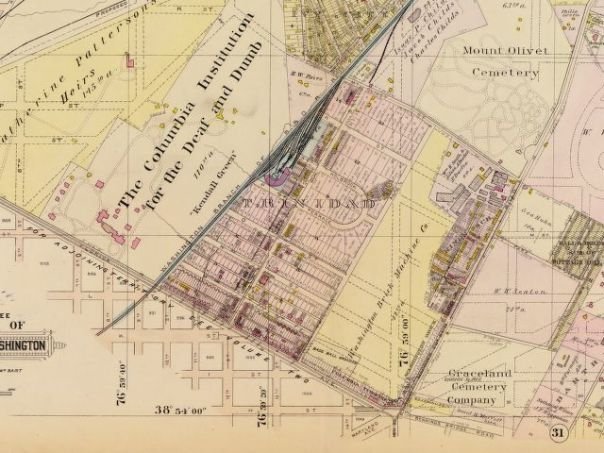 1903 Trinidad Map
It's now one of Washington's DC's hottest areas to live, filled with well maintained Victorians and Craftsman-style row homes. The vibrant Trinidad neighborhood includes some homes that have been recently renovated, with others currently in the middle of new updates.
That wasn't the case just a few years ago, though. The neighborhood of Trinidad that we know today was at the time in need of updates. Generations old, many of the historic homes of the area desperately needed a facelift, as did the rest of the neighborhood.
Originally named Trinidad by a former landowner who spent time on the Caribbean island, the area we now know as the Trinidad neighborhood started as a country estate. Later deeded to a university, the college eventually sold off land to a brick machine company. Not needing all of its newly acquired space, the company starting selling off the western side of its land in lots, turning into Trinidad's very first development.
Still mostly residential, houses began going up in this northeast DC neighborhood by the late 19th century, some of which still stand in the neighborhood today. By the turn of the century, the Washington Senators moved in to play at American League Park in the neighborhood, too.
While classic Victorian rowhouses like those on Capitol Hill continued to go up in the neighborhood over the years, so did popular 1920s style craftsman designs. Some areas in the northern part of Trinidad weren't developed until the 1940s.
These days the old homes of Trinidad are luring people back to the area once again. The Trinidad neighborhood also includes a popular rec center and hosts a well-visited art festival.
Nearby stores sit just outside of Trinidad, while you'll also find retailers, grocery stores and other options for area residents to enjoy in the nearby H Street Corridor and NoMa.