The Suburban Century is Over
Posted by Mark Washburn on Friday, June 25, 2010 at 9:08 AM
By Mark Washburn / June 25, 2010
2 Comments
Interesting report in the minnpost.com detailing a housing experts predictions for shifts in American housing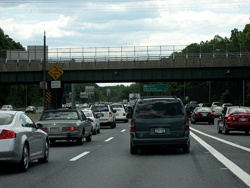 demographics away from suburban sprawl to urban central cites and suburban town centers. This lifestyle shift was discussed in a presentation delivered to the Urban Land Institute of Minnesota by housing researcher John Mcllwain.
For many years, the Washington DC area has been at the forefront of this suburban to urban shift described by Mcllwaine. The development around both Metro stations and town centers throughout the entire region is staggering.
Here in the District, even 25 years ago who could have predicted a renewed 14th Street Corridor....how about a revitalized Columbia Heights or luxury high-rises in the Capital Riverfront? Probably not many, but at this point even in the midst of a real estate bubble there is great hope for renewal and revitalization across the entire city.
photo courtesy of Flickr user derango