The Sanctuary Sales Nearing Finish Line
Posted by Mark Washburn on Thursday, January 5, 2017 at 9:09 AM
By Mark Washburn / January 5, 2017
Comment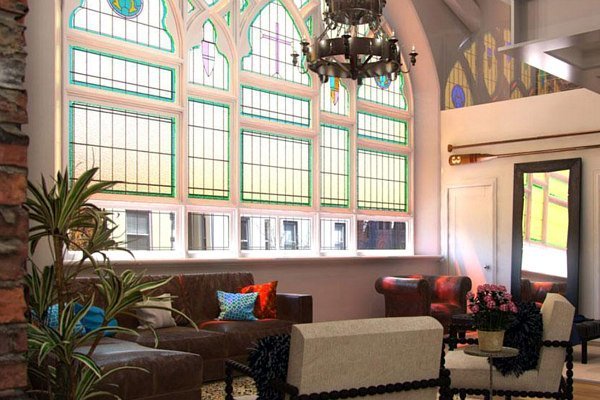 Sales are nearly complete within The Sanctuary, the DC area's latest conversion of church to condominiums that has prospective owners scrambling to own a piece of the unique Capitol Hill property. More than a century ago the building was constructed to house parishioners, but soon the building will make way for the settlement of 30 new condo owners.
Retaining some of the original exposed brick walls of the property, the homes also feature massive, stained glass windows, restored to compliment high ceilings, cast-iron columns and sophisticated appeal. The units of The Sanctuary range from one-bedrooms priced in the $300,000s to the largest penthouse unit listed at well above $1 million.
While each home has its own unique layout, the largest home within the property includes a spacious 2,300 square feet of living space, up to 24-foot ceilings, a 15-foot stained glass window and the original church bell tower, providing private, sweeping views of the Supreme Court and Capitol building. As well, it also offers a loft area and is accented by one of the building's original chandeliers.
The church has also been expanded to include two townhomes in what used to be church office space. The homes straddle the original building, both with large entertaining kitchens and living rooms, separate dining space and oversized closets. Some of the building's old pews are being used as design elements in the units, while other pews are going into the building's communal areas. As well, the church's original staircase is staying as a major design focal point of the entire development.
The 19th-century church is part of the Stanton Park neighborhood, with development helping to retain the original Gothic Revival-style architecture of the building. It joins a handful of similar properties as developers transform old churches into new, more modern residential options for those in the DC area.
Here is a resource to view available units for sale at The Sanctuary.