The Parks of Georgetown
Posted by Mark Washburn on Saturday, November 2, 2013 at 10:05 AM
By Mark Washburn / November 2, 2013
Comment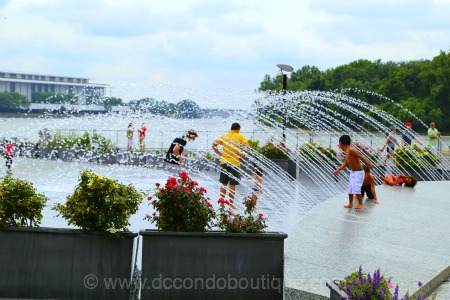 Georgetown is a beautiful place to live or visit in DC.  In addition to fine restaurants, shopping and upscale condos and other types of residential homes, Georgetown is a go-to destination for green open space.  Whether you want to grab a coffee and catch up with neighbors at a local park or pursue a recreational activity, Georgetown has a slew of parks all within walking distance of each other.

Chesapeake & Ohio National Historical Park
Let's take a look at the Chesapeake & Ohio National Historical Park, which remains unbroken for its entire length of 185 miles.  The C & O Company was chartered in 1825 with a mission to build a shipping canal connecting tidewater on the Potomac River in DC with the headwaters of the Ohio River in western Pennsylvania to provide a trade route between the eastern seaboard and the Allegheny west.  The canal survives as a testament to an era of 19th century American canal-building technology.  The C & O canal runs along the Potomac River west from Rock Creek to the DC boundary and extends into Maryland.  The trail along the canal is very popular with residents and visitors alike, and enjoyed by bicyclists, joggers and pedestrians. 

Dumbarton Oaks' Historic Gardens
The Dumbarton Oaks' Historic Gardens stand at the highest point in Georgetown featuring well-designed and landscaped 27-acre gardens, terraces, benches, urns and borders, open to the public and made into a public park.

Georgetown Waterfront Park
The Georgetown Waterfront Park is a national park for all visitors to enjoy open green space, and recreation amid a bustling city.  Bicyclists, skaters, and pedestrians have their own car-free trails with views of boaters, kayakers, and crew teams as well as lovely, secluded Roosevelt Island and the Key Bridge connecting Georgetown to Virginia.  The park offers 10 acres of the Potomac extending from the Washington Harbour complex to Key Bridge, ending the final link in 225 miles of parkland from Mount Vernon, Virginia to Cumberland, Maryland. 

Montrose Park
Located on R Street between 30th and 31st Streets, Montrose Park stands in the heart of Georgetown for the recreation and pleasure of visitors.  Tennis courts, picnic tables, a playground and serene trails that interconnect with Dumbarton Oaks trails are the highlights at Montrose Park.

Rose Park
Rose Park in Georgetown reflects a clean, safe and attractive natural open green space where families come together and play; neighbors walk their dogs; commuters walk through; and where plenty of sports activities are organized.  It's a beautiful open landscape of shade trees, green grass, benches and paths. 

Tudor Place
Tudor Place, a historic house and garden, is a gift from tobacco merchant and landowner Thomas Peter and his wife (granddaughter of Martha Washington) of 5 ½ acres of unique gardens reflecting a Federal-era design.  The gardens offer the opportunity to step back in time and see a bowling green, tennis lawn, heirloom roses and take a tree walk with 400 trees to view.

Volta Park
Volta Park is a self-described green oasis in the heart of Georgetown.  Each year, thousands of families use the park's playground, tennis courts, pool, baseball field and gardens.  Every spring, the park hosts the annual Volta Day celebration.  Each summer, families gather at the park for the Citizen Association of Georgetown's free family concerts.  A very active citizens association continues to use Volta Park as a gathering place for neighborhood events throughout the year.