The Neighborhoods of Kalorama
Posted by Mark Washburn on Monday, July 7, 2014 at 9:19 AM
By Mark Washburn / July 7, 2014
Comment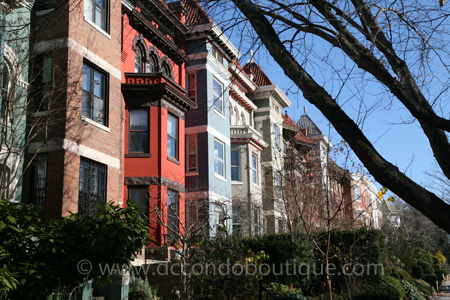 While many recognize Kalorama as a single neighborhood, it is actually comprised of two distinct enclaves, Kalorama Triangle and Sheridan-Kalorama.  Both enclaves have their own housing styles and unique charm in this luxurious section of Washington, DC.
The tree-lined streets of Kalorama Triangle are bounded by Columbia Road, NW, on the east and south; Connecticut Avenue, NW, Rock Creek Park on the west; and Calvert Street, NW, on the north.  It is conveniently located within walking distance to the Woodley Park/Zoo Metro Station and Dupont Circle Metro Station.  This historic area enjoys hilly terrain, gentle breezes and great views over DC.

Kalorama Triangle has historically embraced 3 styles of architecture: English Arts and Crafts, Georgian Revival and Mediterranean.  Almost exclusively a quiet residential neighborhood, Kalorama Triangle holds late 19th century and early 20th century beautifully restored row houses, condominiums, cooperative developments and apartment buildings, as highlighted in James Goode's Best Addresses.  DC's strict preservation laws ensure that an investment in this neighborhood will be indefinitely protected.

Sheridan-Kalorama is made up of idyllic town and suburb-like streetscapes creating a sophisticated residential appearance.  Architecture styles include Queen Anne and Romanesque Revival, English Arts & Crafts, and English Gothic Revival.  Sheridan-Kalorama is an historic district in DC composed of embassies, chanceries, private schools and churches.  Many of DC's elite live in Sheridan-Kalorama in an array of housing options: row houses, single-family homes, and condos.  The high prices of homes here reflect its status among the affluent and influential.  The boundaries are Rock Creek Park to the north and west, Florida Avenue to the south, and Connecticut Avenue to the west.  Situated high above lively Dupont Circle, Sheridan-Kalorama has tree-lined quiet streets but close enough to the dining and entertainment options of Dupont Circle and Woodley Park.