The Neighborhoods of Georgetown
Posted by Mark Washburn on Thursday, November 7, 2013 at 4:31 PM
By Mark Washburn / November 7, 2013
Comment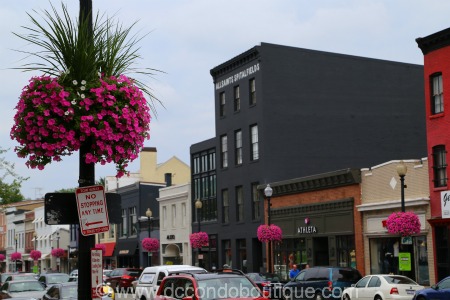 Although there is one Georgetown which is widely considered by its residents to be a village, some Washingtonians talk about a further designation in Georgetown: an East Village to the east of dividing line Wisconsin Avenue, NW, and the West Village, to the west of Wisconsin Avenue, NW.  One of DC's most historical and affluent neighborhoods, two halves of Georgetown is a lore perpetuated by what some residents believe is that the rich folks with grander houses live on the east side and the "poorer" people live on the west side, or West Village.  They good-naturedly bicker about claims of prettiest side of Georgetown or the "best" side.  While this is just a case of folklore, most differences today result more from crowds and traffic as bigger issues.

Residents of "both" sides of Georgetown include distinguished ambassadors, U.S. Senators, congressmen, legendary hostesses and Washington Post publishers and well-known writers.  But, according to real estate agents who live and sell in Georgetown, they claim there is a division that exists in clients' minds when they shop for homes.  The east side of Georgetown does offer the convenience of walking distance to popular Dupont Circle and Foggy Bottom, therefore giving residents easier access to the Metro; the west side is populated by Georgetown University students.  Yet both sides can boast of its moneyed residents and big mansions.

The section of Georgetown south of M Street does not go by any neighborhood moniker, but is known as an area with some of the best luxury condo developments in DC, and convenient access to restaurants, upscale shopping, and plentiful nightlife, Foggy Bottom Metro, George Washington University, Georgetown University and pedestrian and bike paths along the Waterfront.  With industrial roots and obsolete buildings, south of M Street has transformed these buildings into swanky residential condo developments but have kept their historical and charming facades.  There are also many quaint and quiet side streets, and back streets, lined with row houses and condos.

Georgetown is the village that is greater than the sum of its parts.  Georgetown remains a symbol of Old Washington with upper-class residents and politicos living in beautiful grand mansions amidst the many chic shops, eateries, college students and crowds.