The Mendota - Much More Than a Kalorama Coop
Posted by Mark Washburn on Tuesday, August 2, 2011 at 11:16 AM
By Mark Washburn / August 2, 2011
Comment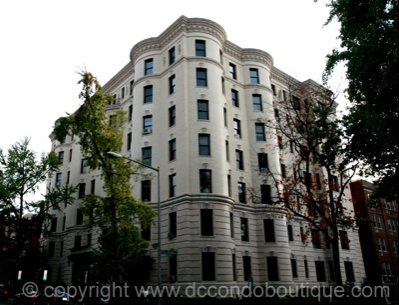 Standing guard over the intersection of 20th Street NW and Kalorama Road, the Mendota protects this corner the way a left tackle protects a quarterback.  The Mendota, which is featured in Goode's Best Addresses, was the first apartment building constructed in Kalorama Triangle.  At the time of its construction in 1901, the Mendota offered an upscale housing alternative to owning a DC rowhouse.  Over the next 26 years after the completion of the Mendota, 25 additional apartment buildings would be constructed in Kalorama Triangle.

The 1910 Census details the upper-middle class nature of the Mendota whose residents included two Library of Congress librarians, four lawyers, two druggists, two teachers, ten clerks, two clergyman, a geologist, a curator, an accountant, an army officer and the president of a storage company.  The Mendota remained prestigious in 1918, when 48 of its 49 residents were featured in Washington's social register.  Jeanette Rankin, the first women elected to Congress was a resident during this timeframe.

In the early 1970's the Mendota was embroiled in a racial discrimination scandal, Mendota Apartments v. District of Columbia Commission on Human Rights.  The courts ruled in favor of the plaintiff and awarded damages of $950 to the plaintiff.

Today, the Mendota is Washington's oldest and arguably most intact luxury apartment building.  A walk through the lobby and a ride on the building's manned and vintage elevator provides residents with a glimpse into the past of this elegant building.  As the Mendota was built and marketed as an alternative to rowhouse living, individual units have among the most generous floor plans in the District.

Mendota architectural details include 10 ft ceilings, gorgeous crown molding, tall windows, heart of pine floors, and victorian-tiled fireplaces.  Building amenities include 24 x 7 staffed front desk and elevator, parlor, courtyard garden and  bicycle storage room.  The Mendota is located one block east of Connecticut Avenue and is within walking distance of two Metro stations.

Currently, two units at the Mendota are available for sale, a 4 BR /  2 BA with 2,200 SF listed for $898,000 and a 2 BR /  1 BA with 1,835 SF listed for $620,000.  Here is a resource to view active Mendota real estate listings.