The History of Anacostia's "Big Chair"
Posted by Mark Washburn on Monday, April 27, 2020 at 12:14 PM
By Mark Washburn / April 27, 2020
Comment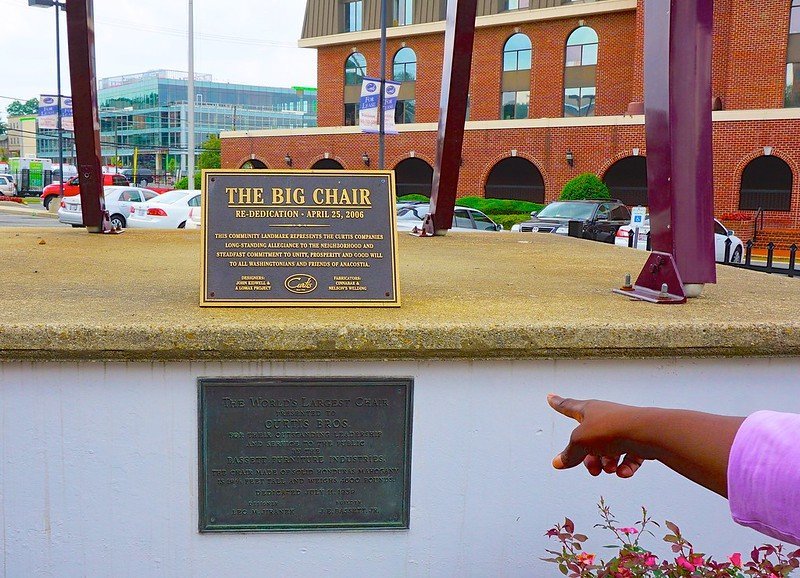 Photo: Ted Eytan
It's definitely one of the DC area's most unique landmarks, and it's been that way for well more than a half-century. The descriptively named "Big Chair" stands nearly 20 feet tall and does anything but blend in with its surroundings.
The chair towers high above the corner of Martin Luther King Jr. Avenue and V Street SE in Anacostia. Much like other roadside attractions, the Big Chair is an icon of sorts for the local community.
First constructed in the late 1950s, the original chair was designed as an advertisement for a local furniture company. The chair was supposed to be a replica of a Duncan Phyfe dining room chair.
Originally constructed out of African Mahogany, the chair weighed in at a whopping 4,600 pounds. At one time it was deemed the largest chair in the world.
Old photographs show people standing below the chair to show its immense size, and even gathering as a group on the seat of the chair. To make it even more of a spectacle, the Curtis Bros Furniture Company soon added a glass cube to its seat.
The 10 by 10 glass house had a bed, shower, toilet and even a tv set and radio. Transparent on three sides, the cube offered little privacy, but it sure did bring in the crowds, especially after the store recruited a young model to live in the cube. It's said she only made it 42 days.
Fast forward another decade or so and the furniture showroom closed up shop. Despite this, the chair remained. Some have equated the chair as a reminder of the neighborhood's economic progress and potential.
The current chair standing at the corner isn't the original. That one had reportedly deteriorated so much over the years that it had to be replaced. While the new chair resembles the old one, it's now made out of aluminum.
Anacostia Homes For Sale
Anacostia Homes For Sale