The History Behind the "Buffalo Bridge" in Georgetown
Posted by Mark Washburn on Sunday, July 19, 2020 at 10:31 AM
By Mark Washburn / July 19, 2020
Comment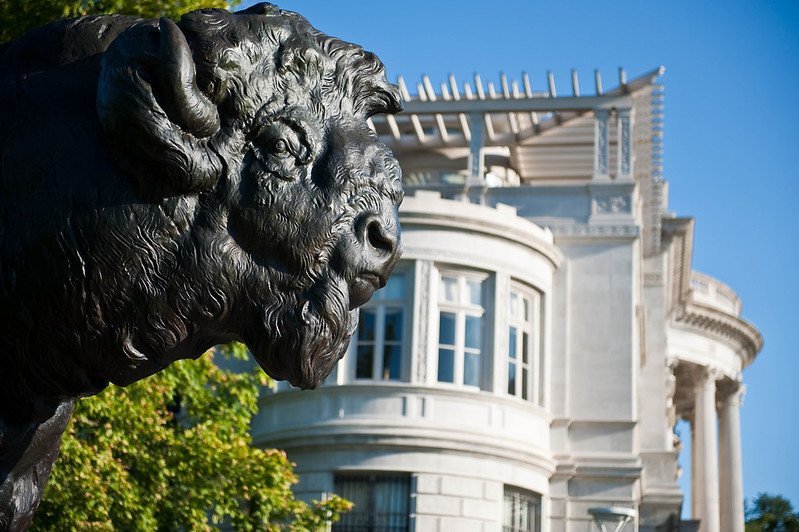 Photo: Bob ?
You may not think much about it as you drive over or under Georgetown's "Buffalo Bridge", but the bridge actually has a history all its own. Also called Dumbarton Bridge or the Q Street Bridge, the landmark first went up in the early 1900s.
At the time, locals were looking for a way to reduce traffic along M Street and make it easier to travel to some of DC's other fast-growing neighborhoods and to downtown. The problem, of course, was Rock Creek.
One idea was to divert Rock Creek through a tunnel, but that would likely have cost millions of dollars. The much cheaper alternative was to build a bridge stretching across Rock Creek Park, thereby connecting up Dupont Circle to Georgetown.
Crews considered moving an existing bridge, but that too proved costly. Another problem was that Q Street ended at Dumbarton House.
Eventually, Congress appropriated the funds to build a new bridge and condemn some nearby land to extend Q Street to the bridge. The historic mansion had to be moved about 100 feet in the process.
Another potential roadblock had to do with Q Street itself. The roadway in Dupont Circle isn't perfectly in-line with the section of the roadway in Georgetown. That's why the bridge you see today is slightly curved.
Architects didn't just want any bridge to be built. To be in line with the City Beautiful movement, they studied examples of bridges worldwide to come up with its design.
It's said architects chose the bridge's stone to reflect the colors of Italy and Spain, then accented its arches with Native American busts. The bridge is guarded on both ends with massive bronze buffalo statues too, which is why some refer to it as "Buffalo Bridge".
It took more than a year and a half to complete the bridge, which now holds a spot on the National Register of Historic Places.