The Chastleton - Modern City Living Steeped in History
Posted by Mark Washburn on Wednesday, July 14, 2010 at 6:40 AM
By Mark Washburn / July 14, 2010
Comment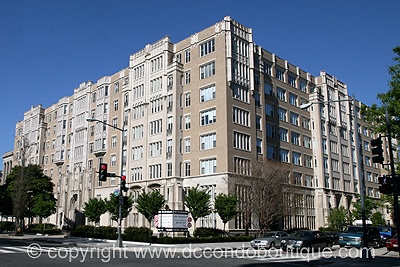 How many Washingtonians can claim that General Douglas MacArthur used to live in their building? If you are one of the 300 owners at the Chastleton, you can unequivocally answer yes! While sharing a roof with the ghost of a WWII General doesn't carry as much weight as living with Lady Gaga, Lebron or Anderson Cooper......it is still pretty cool.

The Chastleton is one of Washington DC's most prominent historic residential structures, and is featured in James Goode's Best Addresses: A Century of Washington's Distinguished Apartment Houses. The ornate Gothic-Revival design features elaborate carved limestone and glazed terra-cotta details. The Chastleton is goth in a beautiful way like Adam Lambert and Liz Vicious, not your scary run-of-the-mill goth like Marilyn Manson or Kelly Osborne.

The Chastleton, originally built in 1920, was renovated and converted from a rental building to a co-op in 2008. The renovations were completed by Keener-Squire Properties and involved the exterior facade, interior common spaces and renovation of the buildings 300 units. Chastleton units feature granite and stainless kitchens, hardwood floors, washer/dryers, recessed lighting and modern/open floor plans. Select units feature private balconies and some include monument views. Building amenities include a fitness center, roof deck, ballroom, interior courtyard and 24-hour front desk.

Located on an acre at the intersection of 16th and R, the Chastleton offers true urban convenience with both the Dupont Circle (Red Line) and U Street (Yellow and Green Lines) accessible via a short walk. The fun and excitement of Dupont Circle, Logan Circle, U Street and Adams Morgan are all walkable from the Chastleton. With a Walk Score rating of 98/100, the Chastleton is categorized as a "Walkers' Paradise," and is among the most walkable addresses in the District.

Currently, six Chastleton MLS listings are available for sale, ranging in price from $225,000 - $369,999. Two parking spaces are also listed for sale at $45,000 and $50,000.