The Cairo Forever Shaped the DC Skyline
Posted by Mark Washburn on Wednesday, May 9, 2018 at 10:47 AM
By Mark Washburn / May 9, 2018
Comment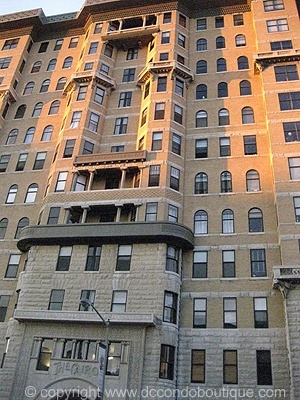 A landmark of Dupont Circle for well more than a century now, there's no doubt The Cairo building forever shaped the DC skyline. The building was first constructed in the late 1800s as the city's very first residential skyscraper, so tall that after completion it led local leaders to fight for zoning laws and height restrictions in DC that still exist today.
Stretching a full 12-stories, the building sits on the National Register of Historic Places, inspired by grandiose structures found in other big US cities. Along with eliciting some controversy over its height in the beginning, the building also featured some memorable attributes, with large rooms, a phone in every apartment and the technological reliance on electricity over gaslights, something unique at the time.
Not long after opening the building, it took on the name of the Cairo Hotel, becoming a favorite with DC society for numerous political gatherings and social events, attracting the likes of Thomas Edison and F Scott Fitzgerald. The building began to lose its luster in the 1960s, though, later used as a rehab center, followed up by several failed restorations over the years.
Eventually converted over into condos in the late 1970s, recent upgrades have included exposing and restoring the building's original terrazzo flooring. The tallest residential building in DC now houses condos ranging from studios to three-bedroom, multi-level units.
Look closely, though, and you'll see a range of distinctive architectural elements throughout the quirky building, from gargoyles to dragons and even elephant heads. Surrounding a stone courtyard, the U-shaped building also houses a marble-floored lobby, with wide marble staircases.
The Cairo's rooftop deck offers up some sweeping views of the skyline, as well as Washington Monument, Georgetown and the National Cathedral. It's the height of the building that makes it possible, leaving its mark on the DC skyline for generations past and likely generations to come.