The Cairo - DC's Tallest Condo Building
Posted by Mark Washburn on Wednesday, December 1, 2010 at 7:59 AM
By Mark Washburn / December 1, 2010
1 Comment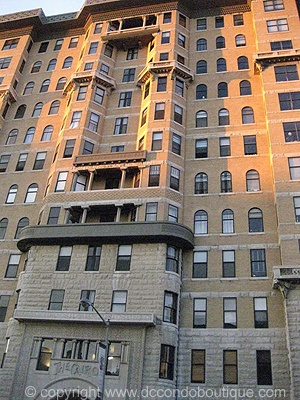 Towering over Dupont Circle the way Manute Bol used to man the low post for the Bullets, the Cairo is DC's tallest residential building.  At 12 stories, the Cairo would seem more like Muggsy Bogues in high-rise centric markets like Manhattan, Miami or Chicago, but in the District it is a giant.

The Cairo was designed by architect Thomas Franklin Schneider who was inspired during a trip to the 1893 Chicago World's Fair.  He fashioned the Cairo after the Fair's Transportation Building.  The Dupont neighborhood didn't like the new skyscraper and soon afterward the DC Board of Commissioners enacted DC's stringent Heights of Buildings Act to prevent another "skyscraper" from being built in the District.

In its early life, the Cairo was the most glamorous hotel in the District, hosting dignitaries including William Howard Taft, Thomas Edison, F. Scott Fitzgerald.  The hotel prospered into the 1950s, but began to decline in the 1960s when it became a rundown flophouse inhabited by squatters, drug addicts and criminals.  In 1974, the Cairo was restored under the direction of Arthur Cotton Moore and converted to condos in 1979.

The Cairo has been wonderfully restored and boasts an awesome roof deck with awe-inspiring district views.  Last summer the original Terrazzo tile floor in the lobby was restored in beautiful fashion. Cairo condos have significant architectural character with exposed brick walls, high ceilings and large windows.  At present, there is one active listing at the Cairo, featuring 2 BR / 1 BA and 708 SF listed for $465,000.  Here is a resource to view active Cairo listings.