The Boro in Tysons Expansion Continues
Posted by Mark Washburn on Friday, December 30, 2022 at 4:57:07 PM
By Mark Washburn / December 30, 2022
Comment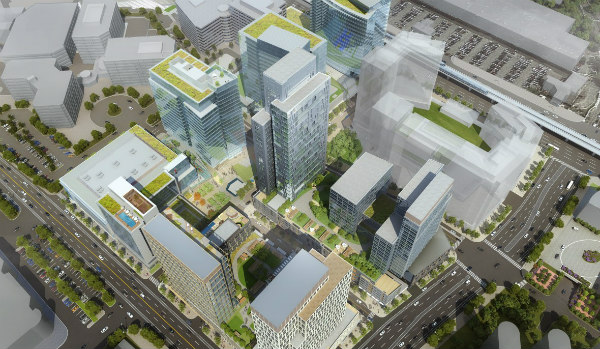 Expansion continues in Tysons, where phase two is currently underway at The Boro. This past spring, Fairfax County officials approved expanding the mixed-use development to include even more retail, residential, and park space.
Phase two of The Boro consists of another 600,000 square feet of development, led by the partnership team of The Meridian Group and Akridge. Plans approved earlier this year called for a trio of new buildings, making space for more than 500 residential units.
The new residential space is expected to include such amenities as fitness centers and club rooms, plus the development also mean bringing in another 36,000 square feet of retail space. Earlier this year, it was announced some of the new retail space at The Boro was reserved for a CVS Pharmacy, which will sit across from an existing Whole Foods Market.
The approved plan announced this past May also includes a public park. Allsboro Park will connect Greensboro Drive and Broad Street, bringing in some garden areas, some seating, and some public artwork, as well as gathering space, and a pickleball court. It's hoped the expansion project will further transform Tysons into a walkable neighborhood with easy access to urban park space, retailers, and amenities.
It's likely the new additions will be complete sometime in 2025. The Boro originally opened in 2019, consisting of some retail, office, and residential space.
The property is already home to two apartment buildings, a condo building, and a Whole Foods Market. There are also some existing businesses at The Boro, and an outdoor space called Sandlot Tysons sits in the area too, which is commonly used to host pop-up events.
Not long after the original phase of The Boro opened, plans were hatched to make the development even larger by expanding it across Westpark Drive. The Boro sits near the Greensboro Metro station in Tysons.
Search McLean Condo Developments