The Athenaeum: An Old Town Treasure
Posted by Mark Washburn on Tuesday, July 22, 2014 at 1:17 PM
By Mark Washburn / July 22, 2014
Comment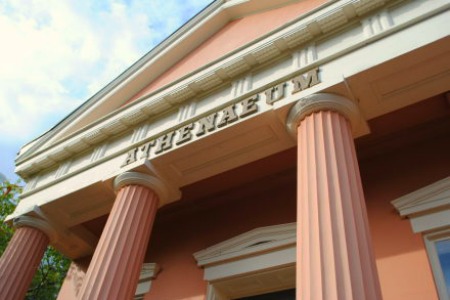 Historic and lovely, the Athenaeum is a museum of fine arts and the home for the Northern Virginia Fine Arts Association (NVFAA) located in charming Old Town Alexandria.  The Association's mission is dedicated to establishing first-rate arts programs that lift the cultural life of the Northern Virginia region.  The building has a long history and has served several purposes over time.  The Athenaeum is listed on the National Register of Historic Places.
The Athenaeum, an inviting building, presents regional artists or performances by top musicians and actors.  Gallery hours are Thursday, Friday and Sunday from 12-4 PM and Saturdays from 1-4 PM.  Admission to the Gallery is free.  Programs open to the public include Arts exhibits, lectures, and demonstrations featuring local and regional artists, performing arts events, and yoga, ballet and other dance classes.
The NVFAA receives funding from the Virginia Commission for the Arts, the National Endowment for the Arts, and the Alexandria Commission for the Arts, but depends largely on community donations for its survival.  Upcoming events include Music/Dance in the Gallery on July 19 and the Art of Ballroom Dance on July 21.
Its rich history began with a land survey by George Washington.  The Athenaeum, also known as the Old Dominion Bank Building, was constructed in 1851 at the intersection of Lee and Prince Street, where many prominent people like Robert E. Lee had an account.  It is also home to the Washington School of Ballet.  The Athenaeum is at the head of the Captain's Row, a block of 18th century buildings that face a quaint cobblestone street.  It is one of only 2 surviving examples of Greek Revival neo-classical architecture open to the public.  It is featured on a walking tour of Old Town Alexandria.