Tax Record Database of DC Condos
Posted by Mark Washburn on Wednesday, June 1, 2011 at 6:44 PM
By Mark Washburn / June 1, 2011
2 Comments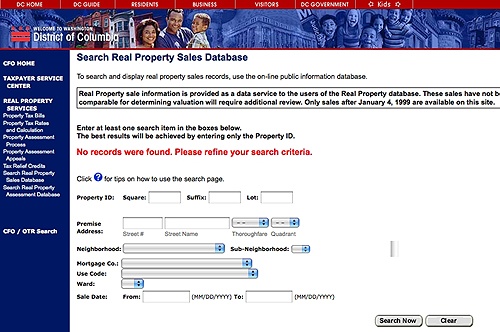 There is an online resource available courtesy of the DC Government that provides sales history for a condo or home in the District. This resource titled District of Columbia Real Property Sales Database provides sales history back to January 4, 1999. The database is searchable by address or property ID.
The Real Property Sales Database is a valuable tool for determining the last selling price of a particular condo unit. In addition, current year and proposed next year assessed value are displayed. From a particular property record, links are available to tax payment information as well as property features including year built, square footage and number of bedrooms and bathrooms.
The Real Property Sales Database search mechanism can at times be a bit finicky. It does support truncated word searches for street names and I have had better success using partial street names. Good luck in your fact finding and research to support your quest for the perfect DC Condo.