Takoma: A Close Knit DC Neighborhood
Posted by Mark Washburn on Friday, September 18, 2015 at 12:56 PM
By Mark Washburn / September 18, 2015
Comment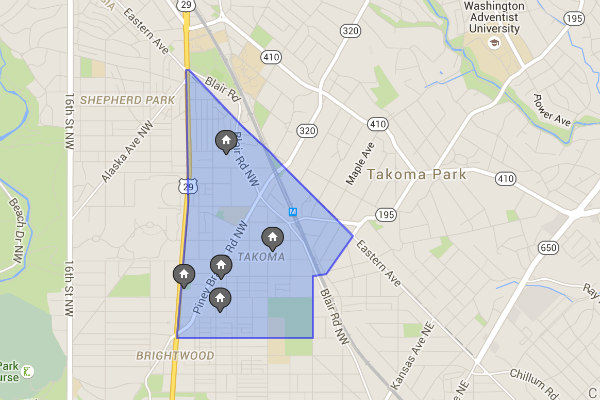 The DC neighborhood in the northwest quadrant of the city, Takoma, is a spirited close-knit community shared by residents who have lived there for decades as well as young first-time homebuyers.  The attractive location is near DC's restaurant and retail hotspots but also itself a delightful quiet green and leafy neighborhood full of pretty tree-lined streets with older homes with character, especially Colonials, bungalows and Cape Cod-style.  Most of the homes were built between 1920 and 1950 and are considered some of the most reasonably priced in DC.  Many of the houses in Takoma are historic, with some over 100 years old.  Proximity to Rock Creek Park is a plus, and the urban options of DC make Takoma an attractive housing choice.  Its small downtown has been recently re-developed, attracting new businesses and new residents.  The Takoma Metro Station on the Red Line is in the neighborhood.  It's a very walkable and bike-able area.  It's a neighborhood that feels like a small town.

Homebuyers gravitate to Takoma for homes with more space, close to the Metro, and friendly neighbors.  Takoma is located on the northeastern edge of DC, and Eastern Avenue separates it from Maryland.  It borders the city of Takoma Park, Maryland.  Georgia Avenue borders Takoma on the west across from Rock Creek Park; Tuckerman and Van Buren Streets are to the south.  Its roots date back to 1883 as a commuter rail suburb of Washington offering access to the city and a semi-rural lifestyle; it is known for its community spirit and involvement.  Top selling points for these homes include good space for a three-bedroom/2 bathroom home, for example, in addition to a garage, and a big yard sitting on a large lot.  

New buyers are likely to be younger replacing older long-time residents who are drawn to below average home prices, proximity to parks, safe environs, and the Takoma Recreation Center (free for DC residents).  The recreation center has a free indoor pool with a children's pool and fountains as well as hosting classes.  Takoma has a wonderful TakomaDC neighborhood listserv available to all residents; a few vegan restaurants that popular options; and a year-round farmer's market.  The area around the Metro Station, "Old Takoma" has a 1950s feel with a main street shopping district home to independent shops.