SunTrust Plaza Controversy in Adams Morgan
Posted by Mark Washburn on Friday, August 26, 2016 at 6:05 AM
By Mark Washburn / August 26, 2016
1 Comment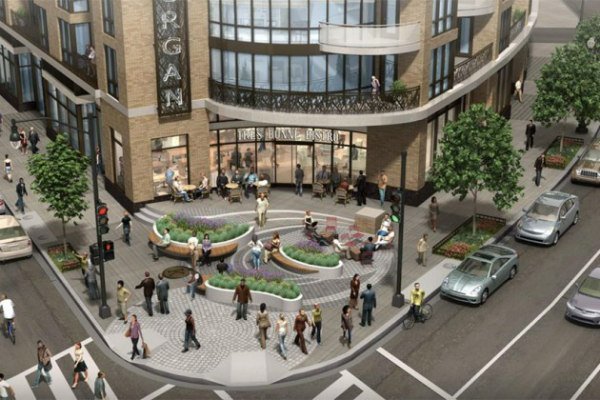 Controversy is brewing in Adams Morgan where opponents of a planned luxury condo building continue to battle developers over the property. Once the site of an old theatre that succumbed to one of the most tragic days in neighborhood history the SunTrust Plaza has for some time primarily been used and known as the site of public concerts and farmer's markets.
The location is privately owned, though, and much to the dismay of some area residents the developer is attempting to turn the land and the existing bank at Columbia Road and 18th into a brand new mixed-use building. Original plans called for the construction of dozens of condo units, retail space plus a small plaza, eventually caving somewhat to neighborhood demands with a new design that pushes the building back farther from the street, adding benches and planters to the outside space.
Even so, the plan is still being met with concern from some who feel that the public is losing out on a space they've had access to for quite some time. While not everyone is against development at the so-called gateway to Adams Morgan, others continue to protest, some choosing to hold signs and demonstrate on weekend mornings while others argue the city needs to step up and save the site for historical reasons.
While a group of residents battle to keep what they see as valuable open community space necessary for controlling affordability in Adams Morgan, proponents of the development maintain the site is in actuality still private property ripe for development in one of the region's most desirable communities.
Currently in the hands of the Board of Zoning Adjustment, the future of the development remains to be seen. Even without it project developer PN Hoffman already maintains a strong showing in Adams Morgan as its name is attached to several other existing developments in the neighborhood.