Strivers' Section on DC's African American Heritage Trail
Posted by Mark Washburn on Tuesday, November 5, 2013 at 9:47 AM
By Mark Washburn / November 5, 2013
Comment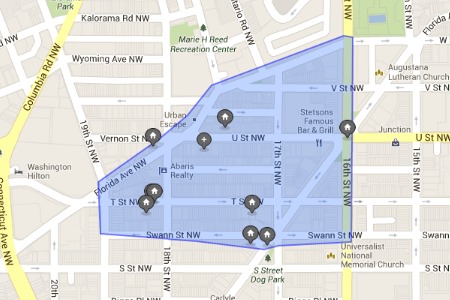 The Strivers' Section is a historic district located in the Dupont Circle neighborhood of Northwest DC.  It was historically an upper middle class African American neighborhood, with many community leaders living there in the late 19th and early 20th centuries.  The name, Strivers' Section, was taken from Strivers' Row in Harlem, a New York City historic neighborhood of black professionals.  Listed on the National Register of Historic Places, the Strivers' Section is bounded by Swann Street on the south, Florida Avenue on the north and west, the 16th Street Historical District on the east, and 19th Street on the west.

Architecturally, the Strivers' Section is characterized by late 19th and early 20th century row houses and a variety of condominium and apartment houses.  The single, flat front Italian row houses with their ornamental moldings and cornices that stand on the south side of the 1700 block of T Street are considered the earliest buildings in the neighborhood.  The Richardson Romanesque Revival style is represented in the big red sandstone mansion at 2102 17th Street, and other houses on 1730-1738 V Street and 1700-1704 Florida Avenue.  Edwardian-style homes sit on the 1700 blocks of T and U Streets, and are widely considered architectural focal points of the neighborhood.

Strivers' Section is served by great public transit.  Howard University is nearby as well as a few small businesses.  Among its most notable residents was Frederick Douglass, runaway slave, abolitionist, writer and civil servant.  Douglass built the southern 3 buildings of a 5-house Second Empire style row at 2000-2008 17th Street in 1875-76.  The area was also home to James E. Storum, the entrepreneur who founded the Capital Savings Bank, the first African American owned bank.