Streetcars Shaping DC Neighborhoods
Posted by Mark Washburn on Wednesday, October 11, 2017 at 9:03 AM
By Mark Washburn / October 11, 2017
Comment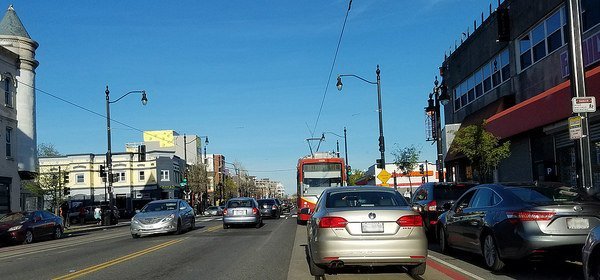 Photo: Thomas Cizauskas
An old idea is making a comeback in the DC area, and reshaping some of its neighborhoods along the way. The old streetcars of yesteryear came back late last year, with some ambitious plans to extend the project out even more in the future.
The current route starts off behind Union Station, down H Street to Benning Road, ending at Langston Golf Course. The final stop of the line sits near the RFK Stadium parking lot. The streetcars already set the stage for some future redevelopment plans, and more could be coming.
There's an effort underway to extend the streetcars westward to downtown and Georgetown. Expected to be more reliable than the current H Street line, the proposed K Street line would likely also be faster and not have to deal with some of the issues that the H Street line currently has.
The H Street line is short, and some say it's not as effective as it should be. A K Street line would run down the middle of the street in dedicated lanes, likely solving the problem of congestion. Some say it would allow it to run more frequently, perhaps saving riders more than a half-hour in rush hour between Union Station and Georgetown.
The H Street line currently carries an estimated 3,000 riders every day. Projections suggest that a K Street line could carry more than six times that amount. One hold-up of the line is Hopscotch Bridge, which needs to be replaced. It could take years for that to happen, meaning that at least for now, a K Street streetcar is on hold.
In the meantime, the existing streetcar runs every day of the week, with times from morning through late at night, and slightly different hours on holidays. For now, it's free to ride and there are a total of eight stations. The streetcars typically run about 15-minutes apart.