Street Murals Dominate These Popular Neighborhoods
Posted by Mark Washburn on Wednesday, March 31, 2021 at 12:31 PM
By Mark Washburn / March 31, 2021
Comment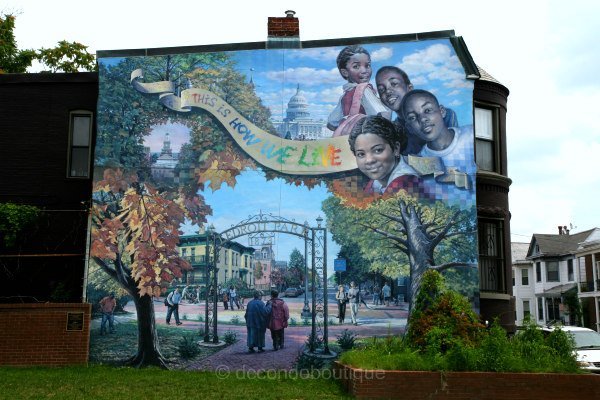 Some of the most colorful artwork in DC isn't housed in area museums. Instead, you'll find it outside, boldly lighting up area streets. It's common to find street murals in several popular DC neighborhoods, with hundreds of displays of outdoor artwork found throughout the area.
An entire building in the Southwest Waterfront has become its own piece of art. The former Baptist Church was first built in the late 1800s but is now called Culture House DC. It's painted with just about every color in the rainbow.
Inspirational messages are on display in Union Market. One of the latest additions to the NOMA food hall is a Mural Project put up in response to the ongoing COVID-19 pandemic.
A larger than life tribute to Vice President Kamala Harris is on display in The Wharf. Stretching 20-feet high, the mural isn't made of paint, but rather 150 crocheted, rainbow-colored squares created by women all across the country. The mural went up on International Women's Day and is expected to stay there until Memorial Day.
A few years earlier, the Heart Wall went up in Capitol Hill. Also painted to honor International Women's Day, the mural depicts an array of spray-painted hearts and the message "Never Give Up".
In Georgetown, look for the iconic wave mural. It's painted on the side of a row house. The mural replicates a legendary Japanese print first created in the mid 1800s.
Head next to U Street for some great art and great food. Ben's Chili Bowl is known for its half-smoke, but the outside of the iconic building is known for much more. There's a massive mural depicting prominent African Americans.
U Street is also where you'll find a tribute to legends like Billie Holiday and Duke Ellington. They're just a couple of jazz greats featured in a mural on 11th Street NW.
A tribute to DC musician Marvin Gaye is on display in the Shaw neighborhood. The mural sits along S Street NW.