Steve Mnuchin Buys in Massachusetts Heights
Posted by Mark Washburn on Wednesday, March 22, 2017 at 2:40 PM
By Mark Washburn / March 22, 2017
Comment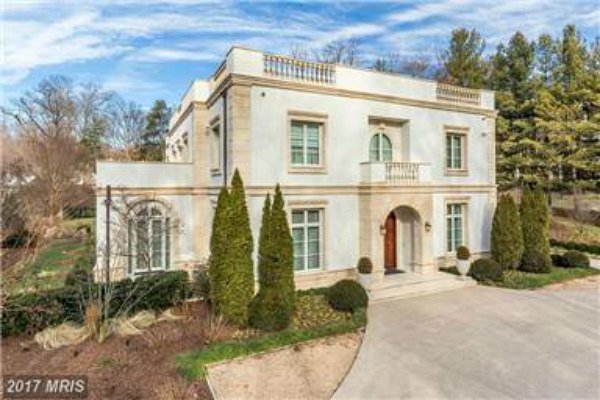 There's a new high-profile homeowner in Massachusetts Heights, making the latest multi-million dollar home sale connected to the incoming White House administration. Newly coined Treasury Secretary Steven Mnuchin reportedly purchased the $12.6 million home several weeks ago.
Located on Rock Creek Drive NW, the home was publicly sold off-market to an undisclosed buyer, listed only as a trust. Since then, however, multiple published reports have linked the home to Mnuchin.
Overlooking Rock Creek Park, the mansion offers nine-bedrooms, 11 full bathrooms and several more half-baths. Constructed in 2001, the estate also includes several fireplaces, a light-filled indoor swimming pool and sauna, a fitness room, media screening room and a wine cellar.
At 16,000 square feet, the home additionally comes with a four-car garage and a gated front entrance. The former owner purchased the property several years ago for $7.5 million. Because the latest listing was private, however, few other details about the home are being released, although the white-stucco home is stated to include high-quality upgrades, such as an oversized kitchen.
Built in the early 2000s, the few available pictures of the mansion show exquisite attention to detail, with several formal living spaces for the new homeowners to enjoy. The property includes plenty of hardwoods throughout, plus an excess of room for entertaining, both inside and outside the home.
It's the same neighborhood where new Commerce Secretary Wilbur Ross recently purchased a home and the neighborhood where former Commerce Secretary Penny Pritzker also lives. It's not far either from the home of new Secretary of State Rex Tillerson or the one that Ivanka Trump and her husband, Jared Kushner, share in nearby Kalorama.
Massachusetts Heights is prized for its central location and its suburban feel, with large, private homes just a short drive away from the White House. It's also a popular location for some of the DC area's wealthiest and most well known residents.