Stead Park Getting A Makeover
Posted by Mark Washburn on Monday, September 8, 2014 at 11:50 AM
By Mark Washburn / September 8, 2014
Comment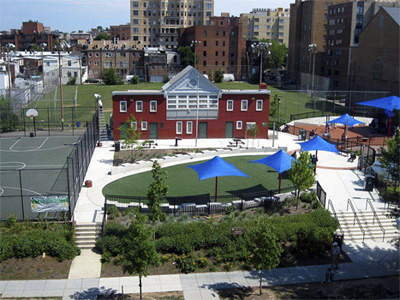 Renovations for Stead Park in Dupont Circle began this summer with two big projects going on---one to update Dupont Circle's only athletic playing field and the other to improve the storm water retention system.  The field will soon be a state-of-the-art park and recreational facility for the Dupont Circle and Logan Circle neighborhoods in DC.   The existing field at the Stead Park Recreation Center was strongly supported by residents of the communities. 

Major improvements include installing artificial turf at the field; a rubberized jogging track; a kiddie splash pool with adult seating; and a stage for community events.  New landscaping, shade trees and a children's playground will also be added.   Currently, Stead Park has a lighted basketball court, an athletic field with a baseball diamond and a playground.  Project completion is expected in November 2014. 
Public events include summer evening movies; daytime puppet shows for children; and the popular longstanding kickball games in the evening.  The concerts, films and cultural programs are all sponsored by the DC Park and Recreation Department.  Stead Park is also used as a practice field by the Washington Renegades, the first rugby club in the U.S. to recruit gay men and men of color.  The park is named for Mary Force Snead, the wife of DC architect Robert Snead.  The DC Council voted to make the upgrades following months of community advocacy.  Stead Park is located at 1625 P Street, NW.