Solea @14th & Florida
Posted by Mark Washburn on Saturday, December 5, 2009 at 11:01 AM
By Mark Washburn / December 5, 2009
Comment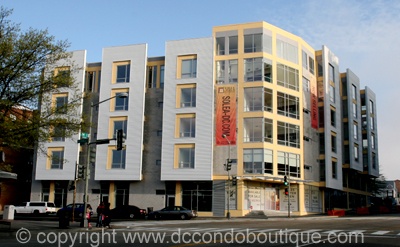 Not quite sure why, but lots of search hits this week for Solea, a new condo project at the northwest corner of 14th Street and Florida Avenue. Solea was designed by Sorg Associates and developed Jair Lynch Development Partners. It features 59 condos with 52 residential and seven live/work units and 20% classified as affordable. This 65,000 SF project also include three street-level retail condos.
Solea units feature hardwood floors, stainless appliances, granite countertops and washer/dryers. Over-sized seven foot windows create panoramic views from Solea living space. Solea units have a spacious feel with a minimum ceiling height of ten feet.
The Solea location is being marketed as "the Gateway to Columbia Heights." Florida Avenue serves as the boundary for Columbia Heights and the U Street Corridor neighborhoods and this location has great access to both. WalkScore rates this location as a 95 out of 100, which is defined as a Walkers' Paradise.
Currently, there are less than 5 units left for sale at Solea. Currently two units are listed in MLS #304 - 995 SF 2BR/2BA for $489,900 and #210 - 1,398 SF 3BR/2BA for $589,900. Solea is an FHA approved building.