Shirlington Crescent To Be Reinvigorated
Posted by Mark Washburn on Wednesday, January 20, 2016 at 9:43 PM
By Mark Washburn / January 20, 2016
Comment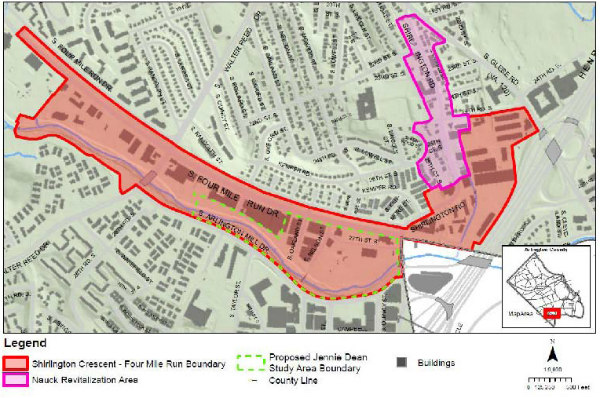 Arlington County is working on a master plan for redevelopment of the Shirlington Crescent community.  Plans for revitalizing Shirlington Crescent, an area of Arlington County, will be moving ahead in 2016 with community planning starting this year.  The goal by Arlington County will bring together different elements under one umbrella: environmental sustainability, economic development and cultural changes in order to develop a clear and united vision of the swath known as Shirlington Crescent.  The Nauck and the Four Mile Run corridors will be redeveloped, stemming from a 2014 study that recommended reviewing changes to reinvigorate this part of Northern Virginia.  The planning process will focus on 95 acres along Four Mile Run Drive and Shirlington Road.

The County will look at the existing Shirlington Crescent area and consider plans to improve or change land-use goals.  The County will evaluate current and future transportation needs, affordable housing, open space, urban design, cultural resources and historic preservation.  Residents are from Shirlington Village, Fairlington, and Nauck.  Many residents feel that the area south of Four Mile Run and Shirlington Road has been neglected.  The neighborhood revitalization project started meeting last weekend with Arlington County Board members in attendance.  During the meeting, small groups conducted a walking tour of the Crescent, led by neighborhood guides, to get a realistic impression of what currently exists.

The Nauck neighborhood is ready for some re-evaluation of land use.  Its location is currently home to several auto repair shops and a self-storage facility.  The boundaries are South Four Mile Run Drive and South Walter Reed Drive, to 24th Road South.  Many residents have expressed a desire to see some small independent businesses move into the area, as well as restaurants, artist cooperatives, public parks, with water walkways and trees, new housing, and picnic areas.  A deep concern is to preserve natural resources that already exist.  Neighbors have supported the idea of warehouse-style, residential loft buildings to be built, according to a neighborhood listserv.  County staffs are putting together a briefing book with analysis, maps, and photos.  An internal working group will identify areas that need further research.