Seven Corners Slated for Makeover
Posted by Mark Washburn on Monday, March 30, 2020 at 12:31 PM
By Mark Washburn / March 30, 2020
Comment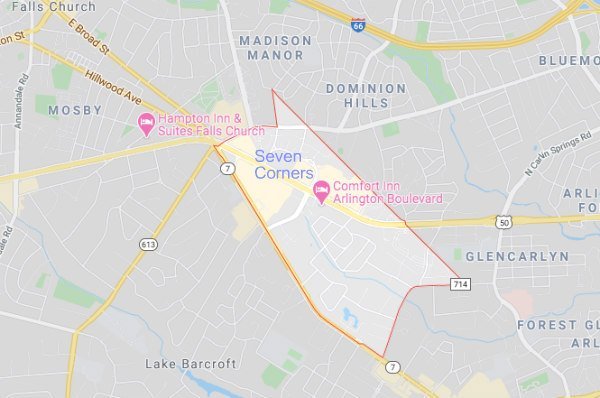 Inspired by work in Tysons Corner, another section of Fairfax County is slated for a makeover. Home to suburban DC's first major shopping center, Seven Corners is now in line for an ambitious transformation.
Plans call for Seven Corners to be remade from old strip malls and big-box stores into an area of new parks, retailers and residences. It's all part of an effort to reinvent some of the region's older neighborhoods like Seven Corners, with hopes of drawing in new businesses and new residents.
Originally built in the 1950s, the old Seven Corners Shopping Center was, at the time, the region's largest shopping mall. Fast forward to more recent years, and in place of vacant office space, parking lots and big-box stores, planners hope to redevelop some of the suburban sprawl of Seven Corners into a newly created, walkable town center.
With more than 200-acres in line for redevelopment, that means replacing some of the older structures with residences, hotels, office buildings and a plaza. County leaders aim to remake Seven Corners into a series of villages with thousands of new homes, outdoor cafes and bike paths.
This means the addition of townhomes, apartments, restaurants, new retailers and more. In recent years construction kicked off on a new hotel and plans were forged for a new apartment and retail project in Seven Corners.
Not everyone in the community has been on board with the grand plans. Some have argued area schools and roadways won't be able to handle an uptick in more traffic or an infusion of new residents.
There is also some concern about out-pricing lower income residents. In the long term, though, proponents say new and existing residents of Seven Corners will enjoy improved transit and a better sense of community as Seven Corners is remade into a new and improved commercial and residential area.