Rumsfeld Selling Kalorama Home
Posted by Mark Washburn on Tuesday, July 15, 2014 at 6:59 AM
By Mark Washburn / July 15, 2014
1 Comment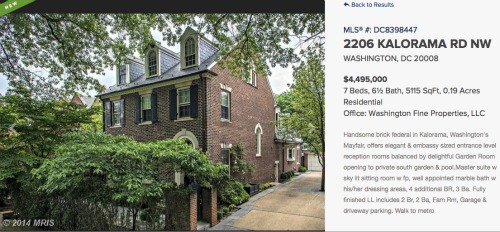 Former Defense Secretary Donald Rumsfeld's house in the upscale Kalorama neighborhood in DC is up for sale at $4.495 million.  The house on Kalorama Road near Embassy Row is across the street from the French ambassador's residence.  The Federal-style brick home features 7 BR, 6.5 BA and 5,115 Sq Ft of living space.
Rumsfeld has lived in DC since coming to Washington as an Illinois congressman in the 1960s.  He later served Republican administrations in various roles, including White House Chief of Staff to President Gerald Ford, Defense Secretary to both President Ford and later President George W. Bush.  Rumsfeld received the Presidential Medal of Freedom in 1977 for his dedication to public service.
The Kalorama home has been a gathering place of old-school Republicans over the years, and the Rumsfelds have hosted dinner parties here that have included Dick Cheney, Henry Kissinger and dozens of other close friends of President Richard Nixon's White House.  The Rumsfelds also own a home on the Maryland Eastern Shore.