Rosslyn Offers City Chic Living
Posted by Mark Washburn on Wednesday, October 9, 2013 at 10:43 AM
By Mark Washburn / October 9, 2013
Comment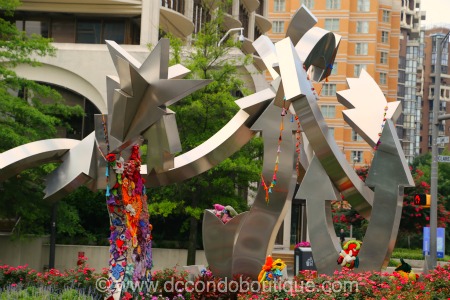 Rosslyn is the last Metro stop in Virginia before entering DC, as you come in from the west on the Metrorail Orange Line.  Rosslyn is located at the eastern end of the Wilson Boulevard-Clarendon Boulevard corridor, which was named one of the 10 "Great Streets" in the U.S. by the American Planning Association.

Across the Potomac River from DC, Rosslyn is a part of greater Arlington and boasts nationally-recognized companies, such as Boeing and Northrop Grumman.  Not only is Rosslyn a business and commercial destination with its own subway station, it offers some of the chicest condominium buildings like The Dakota and Bromptons at Rosslyn.  The elegant Turnberry Tower luxury condominium building is located here as well, complete with valet, concierge, fine furnishings and extraordinary amenities.  Another grand condominium building in Rosslyn is The Waterview Residences, a high-rise 133-unit luxury building at the foot of the Key Bridge into upscale Georgetown.

Urban living in Rosslyn allows residents to work, play and shop with an avid culture, nightlife and convenient public transportation.  No need to have a car living in Rosslyn.  It is city chic living at its finest.  Cultural highlights include sculptures found around the skyscraper office towers; the Rosslyn Spectrum Theatre, which is a conference center during the day, and a performing arts venue in the evenings offering cabaret concerts by Broadway performers and live theatre and music, and an annual independent film festival.  The Artisphere arts center has performing arts stages and art galleries as well as a ballroom and a restaurant.  Rosslyn also hosts an annual jazz festival each September, featuring well-known jazz performers.

Rosslyn's bars and restaurants add to the nightlife mix.  DC can be easily reached without a car by many sources of public transportation, including the DC Circulator free shuttle, Metrorail subway and Metrobus service, as well as a popular Capital Bikeshare program with bike stations in Rosslyn, if you want an easy bike ride into DC or around Arlington.

Many visitors to DC stay in Rosslyn at the Marriott or Hyatt, and come to see tourist sites either in Arlington or the museums in DC just across the Potomac River.  Rosslyn enjoys a marvelous view of the U.S. Capitol. There is so much to do around Rosslyn: The Arlington History Bike Tour is a 22-mile circuit through Arlington, passing through Rosslyn; The Freedom Park and Rosslyn Skywalk, access from 19th and Kent Streets; Key Bridge which spans the Potomac River between Rosslyn and Georgetown, with wide sidewalks for pedestrians and bicyclists; The Iwo Jima Memorial ("The Marine Corps War Memorial") statue depicts one of the most famous scenes of World War II on Marshall Drive between Route 50 and Arlington National Cemetery; and The Theodore Roosevelt Island Park, off George Washington Parkway between Key Bridge and Teddy Roosevelt Bridge.