River Park: Live On The Southwest Waterfront
Posted by Mark Washburn on Monday, June 16, 2014 at 11:08 AM
By Mark Washburn / June 16, 2014
Comment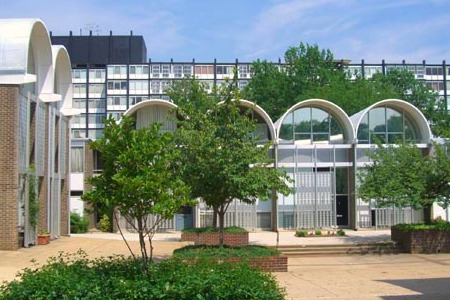 For over 50 years, River Park has led a notable quiet life with a courtyard behind the gates of Fourth Street, SW in DC.  Known for its barrel roof townhouses, River Park has 518 units: 384 co-op apartments and 134 townhomes on the Southwest waterfront in this premier neighborhood adjacent to the U.S. Capitol.  River Park is a co-op community sited on 11 green acres and was designed by well-known mid-century modern architect Charles Goodman.  It is wonderfully located 1 block from the waterfront and a Metro Station as well as all of the major highways---395, 295, Route 1, and GW Parkway.  River Park is easily accessible to Capitol Hill and Georgetown, and a short walk to the U.S. Capitol, National Mall and the Smithsonian Museums, Arena Stage and the Nationals baseball stadium.
Redevelopment has sprung up nicely around River Park, which has a unique mid-century architecture, giving it a more modern feel than its traditional counterparts.  River Park is an attractive mix of diversity---economically, residents of all ages, and races.  River Park includes a renovated Safeway grocery store with a popular Starbucks; a Z Burger restaurant featuring 70 different milkshakes and tables outside with red umbrellas; and a new mixed-use development project called the Wharf that will include walkable piers, cafes, and a hotel.  Young couples and professionals are moving in.
The townhomes feature 2-4 bedroom residences; 3-4 stories with a basement; barrel or flat-roofs; parquet wood floors; and private patio backyards.  The condos feature wall-to-wall windows; efficiencies, 1 and 7 bedroom units; water and skyline views; balconies; and parquet wood floors.  Amenities for River Park residents include 24/7 concierge services; a gated community; gym; assigned outdoor parking; adult and children's outdoor pools; picnic area with grill; meeting and party rooms.