Q Street DC Real Estate
Posted by Mark Washburn on Monday, April 11, 2011 at 6:35 AM
By Mark Washburn / April 11, 2011
1 Comment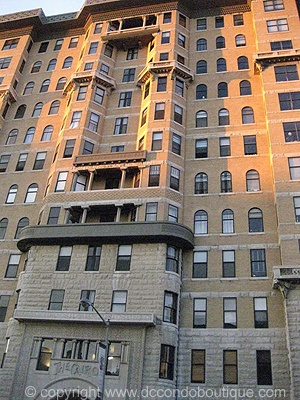 Washingtonians who have chosen to live on Q Street in the District enjoy some of the finest property in the entire city.   This venerable east-west corridor which runs from Eckington in the east through Shaw, Logan Circle, Dupont Circle, Georgetown before terminating in the Palisades.  Much of Q Street runs one-way in the easterly direction and it is not continuous through the Georgetown University campus.

Q Street in Georgetown traverses both the East and West Villages, home to some grand homes including historic Cooke's Row.  Condo developments in Georgetown include Sheridan Garage, Gateway Georgetown and Lyons Mill Condos.

After crossing over Rock Creek Park via the historic Dumbarton Bridge with its iconic buffalo sculptures, Q Street continues through the Dupont Circle neighborhood.  Developments along Q Street in Dupont Circle include The Cairo, 1625 Q, Dupont Row and Harmony House.

Q Street continues eastward through the Logan Circle neighborhood where its leafy blocks are lined with Victorian era row houses.  Logan Circle developments along Q Street include Berret School Lofts and Q14.