Petworth Coming of Age
Posted by Mark Washburn on Wednesday, October 14, 2015 at 12:55 PM
By Mark Washburn / October 14, 2015
Comment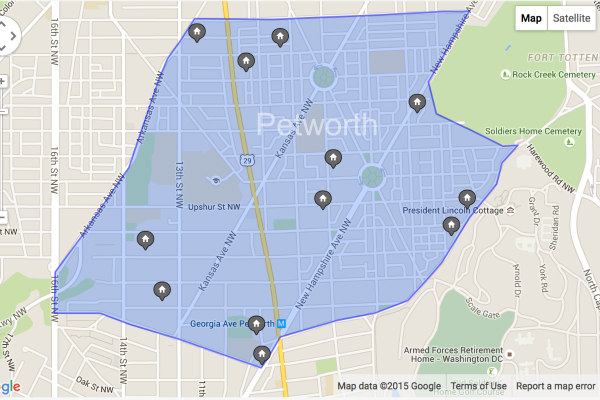 Homes are in high demand and affordable (for DC) in the primarily residential Northwest DC neighborhood of Petworth.  Its boundaries are North Capitol Street to the east, Arkansas Avenue, NW, to the west, Rock Creek Church Road and Spring Road to the south and Emerson Street to the north, in addition to two adjacent historic green spaces---Armed Forces Retirement Home and Rock Creek Cemetery.  The Petworth neighborhood really took shape following a streetcar line from DC to Silver Spring.  The Georgia Avenue-Petworth Metro Station on the Green and Yellow Lines serves Petworth.  The reasonably priced homes ensconced in Petworth are a mix of 2-story brick row houses from the 1920s and 1930s, and single-family homes.  Many of Petworth's row houses have gracious sweeping front porches.  The homes are in high demand for their charm and affordability.  

The location is prime.  The neighborhood is anchored by a Metro Station and less than 15 minutes by car to DC's downtown business center---Capitol Hill, Columbia Heights, Georgetown, H Street, NE, and U Street.  Metro buses run regularly on Georgia Avenue to downtown DC and Silver Spring.  The ongoing development near the Petworth Metro is adding to the resurgence of the area, and Georgia Avenue in particular.  Some attractions in Petworth include: The Annual Arts& Crafts Fair in December on Upshur Street; weekly Saturday farmers market featuring fresh produce and local vendors; free jazz music series held at Petworth Park from May through September; and an Annual Street festival called "Celebrate Petworth" near Howard University is a new tradition.

Gentrification has touched the area of Petworth, usually homes that were mainly vacant.  The neighborhood has been transforming in positive ways with new residents moving in to mostly neglected homes and fixing them up.  Petworth remains friendly, welcoming and community-oriented.  The neighborhood over the years has maintained its sense of true community.  The area is indeed more diverse now with all ethnicities and income levels replacing a once predominant African American population.  This diversity is now reflected in its neighborhood restaurants and retail shops.  Hipster hangout spots such as the French bistro Chez Billy and Scandinavian Domku Bar & Café have won rave reviews by food critics and local residents; and coffee houses, and Yes! Organic Market are some of the new venues coming in alongside ethnic cuisines on Georgia Avenue embracing Ethiopian, Caribbean and Salvadoran food.